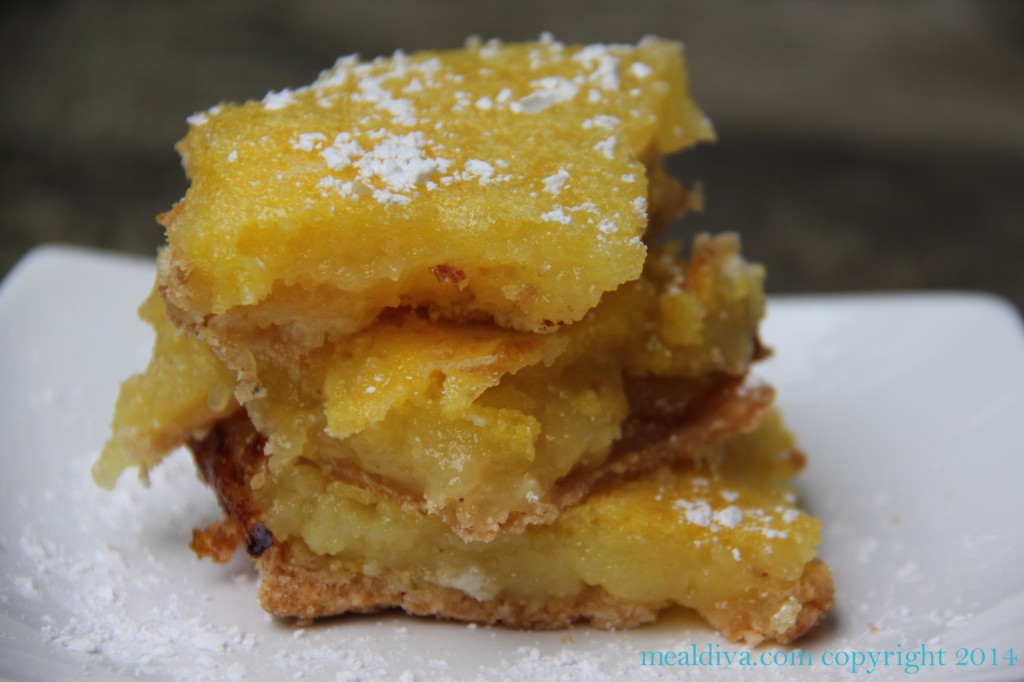 I make these all of the time… they might be my favorite dessert…I actually included them in a Sunday Night Dinner: American Inspired but I think they deserve a post of their own. You just need to make these….like right now…
Amazing Lemon Bars
Ingredients:

For the Crust:
1 3/4 cups whole-wheat flour
2/3 cup powdered sugar, plus extra to top the bars with
1/4-cup cornstarch
1/2 tsp. salt
2 sticks butter at room temperature, cut into 1-inch pieces
For the Filling:
4 large eggs
1 1/3 cups granulated sugar
3 tbs. whole wheat flour
2 lemons, zested
2/3 cup lemon juice
1/3-cup milk
Pinch of salt
Directions:
Place an oven rack in the middle position and preheat the oven to 350 degrees F.
Line a 9X13-inch baking pan with foil or parchment paper and lightly grease it.
Stir together the flour, powdered sugar, cornstarch, and salt.
Add the pieces of butter and cut the butter into the dry ingredients using  your fingers until the mixture is crumbly.
Sprinkle the mixture into the prepared pan and press into an even layer on the bottom and about 1/2-inch up the sides of the pan. Refrigerate for 15-30 minutes.
Bake until golden brown, about 20 minutes.
For the filling, whisk together the eggs, sugar, and flour in a medium bowl and then stir in the lemon zest, juice and milk to combine.
Pour the filling onto the warm crust (it's important that the crust is still warm!) and reduce the oven temperature to 325 degrees.
Bake for about 18-20 minutes until the filling feels slightly firm to the touch.
Cool the bars to room temperature, sprinkle with additional powdered sugar and cut into bars.
Recipe is derived from Mel's Kitchen Café — what a great website! Check it out!