I had so much to do today but all I could think about was sweet potatoes and poblano peppers. The craving was intense.
Then I stated fantasizing about stuffed sweet potatoes, grilled sweet potatoes and then it hit me: sweet potato, poblano peppers with eggs!
Oh yes!
I immediately abandoned all things important this afternoon and made this sweet potato and pepper hash with a fried egg! My head is spinning because this was so easy to make, so healthy and so damn yummy.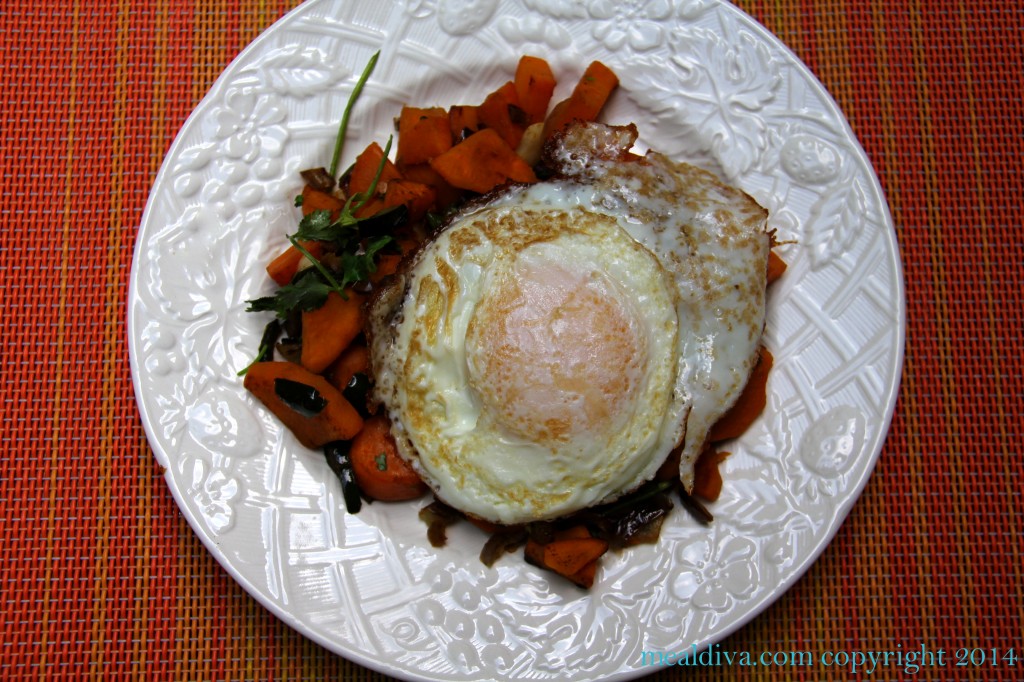 Pure bliss.
Here's a picture of the onion and peppers that I used. No, it's not an eggplant.  My CSA bell peppers happened to be purple this week and they were yummy! If you can't find purple peppers, I think red or yellow would work the best in this recipe.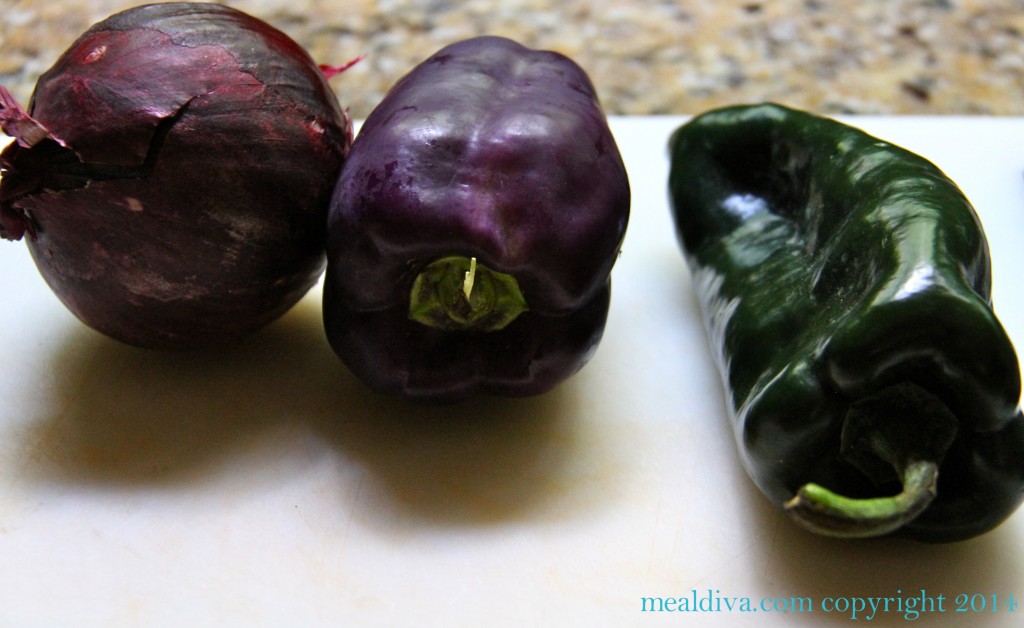 First, chop your ingredients ( I actually decided to use garlic at the last minute so it's not in the picture) and get the sweet potatoes into the boiling water until they are fork tender.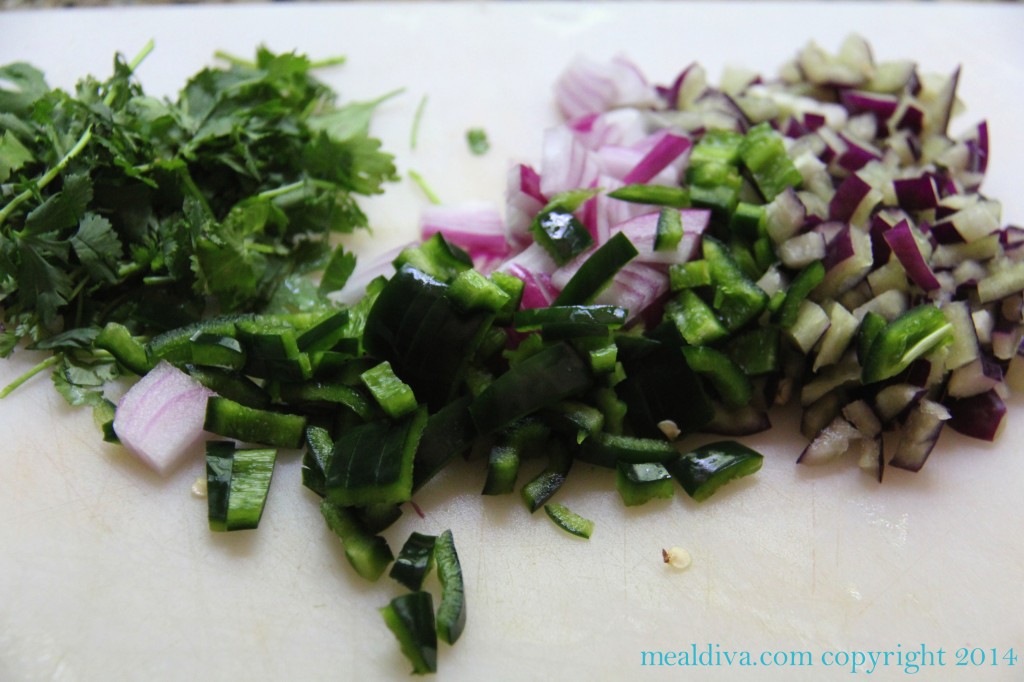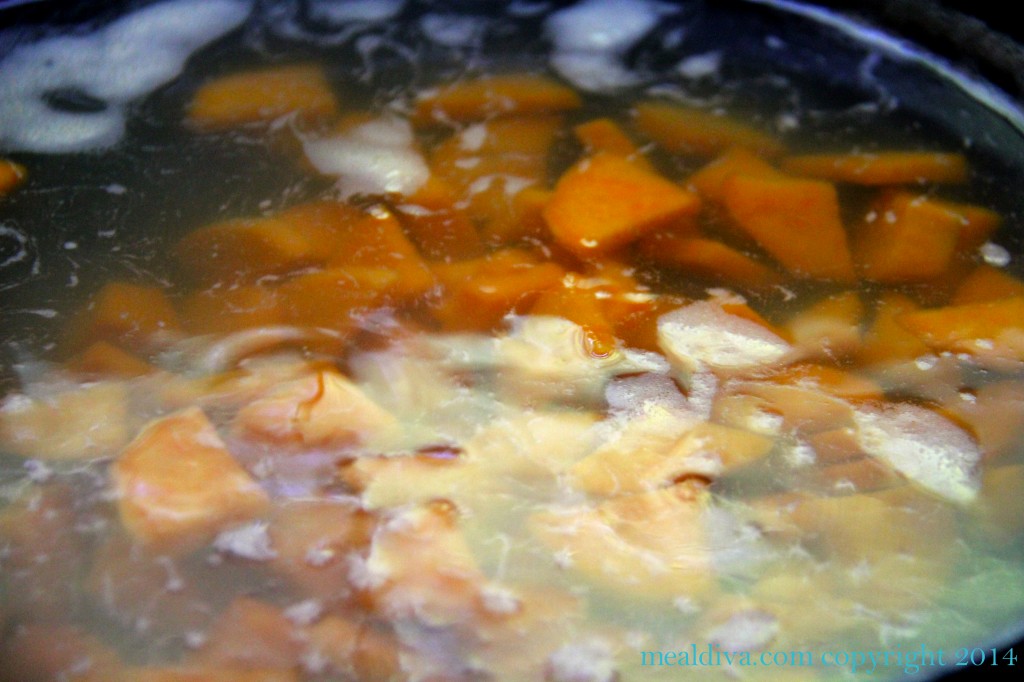 After the potatoes are drained, start cooking the veggies over medium heat until they are fragrant and soft. Watch out for the poblano pepper – the smell sometimes catches in my nose and makes me sneeze! Achoo!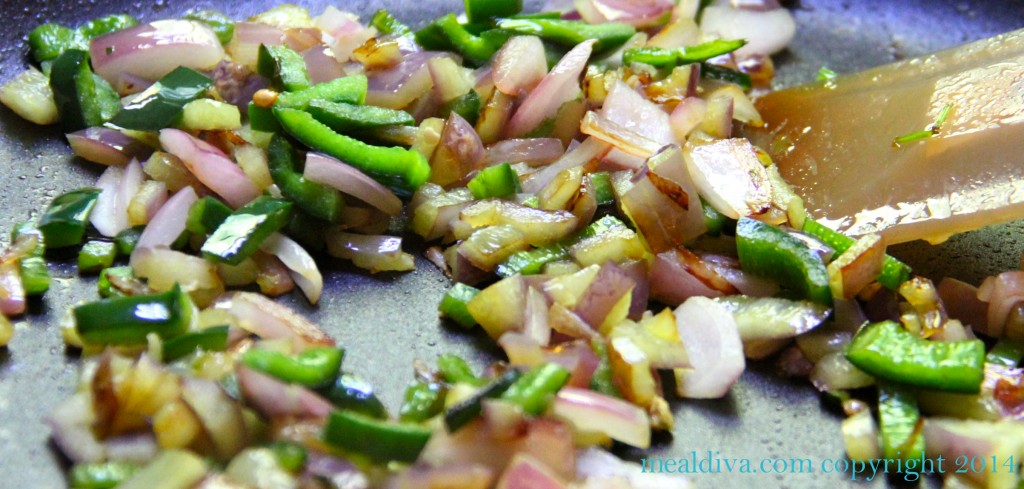 Add the sweet potatoes and continue tossing until everything is warm and wonderful.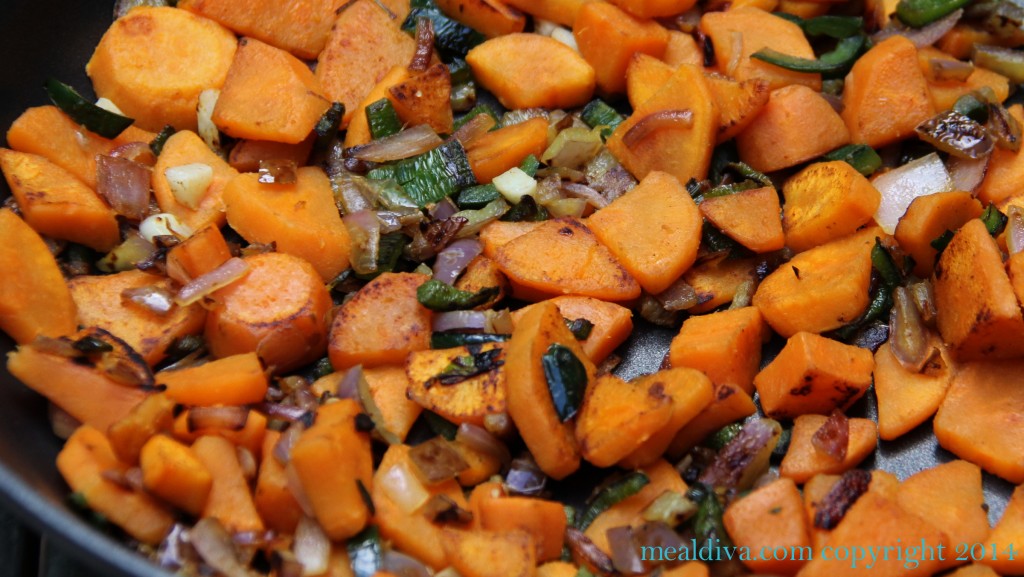 Next, fry the eggs. I like my eggs over-easy but prepare them as you like – don't enjoy eggs? Just eat the hash – it's perfect all by it's self!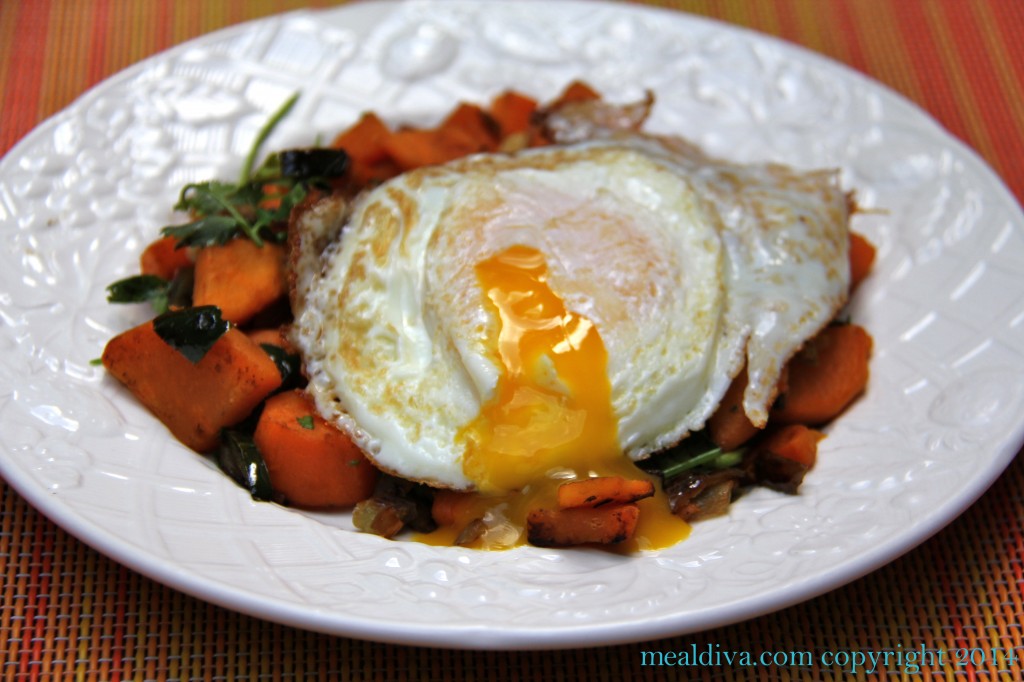 In my opinion this dish is rock star: the spice from the peppers plays beautifully against the sweetness from the potatoes and the savory flavors of cooked onion, garlic and bell peppers. The silky eggs really rounds out each bite and you may even choose to top it with a little homemade salsa. Oh SO GOOD! Enjoy!
Sweet Potato & Pepper Hash with Eggs

Ingredients:
1 lb. sweet potatoes, peeled and cut into cubes
6 tbs. olive oil, more may be needed
1 small red onion, diced
1 bell pepper (color doesn't matter – mine was purple for this recipe), seeded and diced
1 medium poblano pepper, cored, seeded and diced
1 garlic clove, minced
2 tbs. fresh cilantro, roughly chopped
1 tbs. fresh limejuice
Salt and pepper
4 eggs
Directions:
Cook the sweet potatoes in boiling water until firm tender, about 3 minutes then drain and set aside.
In a large skillet, over medium heat, heat 3 tbs. olive oil.
Sauté the onion, bell and poblano peppers until they are softened and fragrant, about 15 minutes.
Add the garlic and sauté for an additional minute then transfer mixture to a plate.
Increase heat to medium-high and add in remaining 3 tbs. olive oil.
Add the sweet potatoes and cook, tossing frequently until the edges begin to brown, about 10 minutes.
Add the onion/pepper mixture to the pan and cook until warmed through.
Add cilantro, limejuice and salt and pepper to taste.
Transfer to a plate and cover to keep warm.
If needed, add more oil to the pan.
When it's hot, crack each egg into the pan (in batches if needed) and fry them sunny side up or over easy; the yolks should be runny.
Plate the hash, top each with a fried egg and serve immediately.