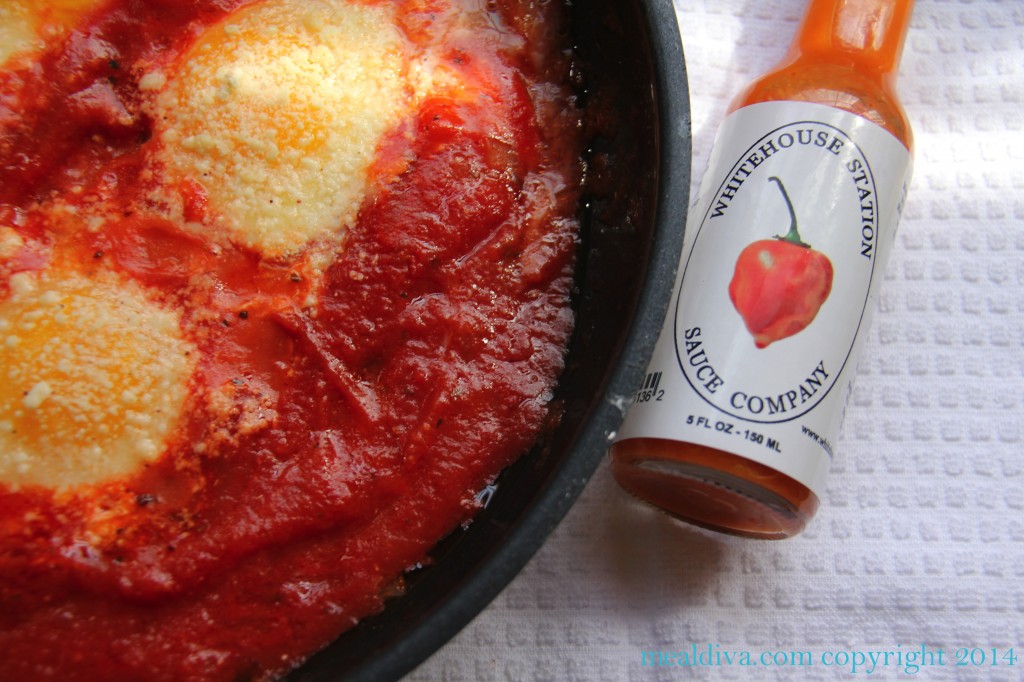 Eggs cooked in a spicy tomato sauce: the perfect brunch recipe. Silky eggs are the perfect companion to the spicy tomato sauce. It's like heaven & hell all wrapped up in deliciousness!
This dish was inspired by Whitehouse Station Hot Sauce Company and, in my opinion, the more heat the better!
Spicy Eggs in Purgatory
Ingredients:
1 (14oz) can crushed tomatoes
1 tbs. olive oil
1 garlic clove, minced
1 tbs. Whitehouse Station Hot Sauce
Sea Salt and Pepper to taste
4 large eggs
3 tbs. Parmesan cheese
Crusty Bread, toasted for dipping
Directions:
In a large skillet over medium-high heat, add the olive oil.
Next, add onions and sauté for 3 minutes.
Add garlic and sauté for 1 minute.
Add tomatoes and hot sauce and let it come to a boil then reduce the heat to a simmer.
Crack eggs, one by one, into a small dish them slip them into the tomato mixture.
Partially cover skillet with a lid and simmer for 5 minutes.
Sprinkle with cheese
Keep an eye on the eggs as the timing may vary depending on how runny you like them.
Remove eggs from skillet, scoop out extra sauce and start dipping!