This is a family favorite, berry-fresh treat: a breakfast cake that's packed full of farm to table fresh blueberries and raspberries.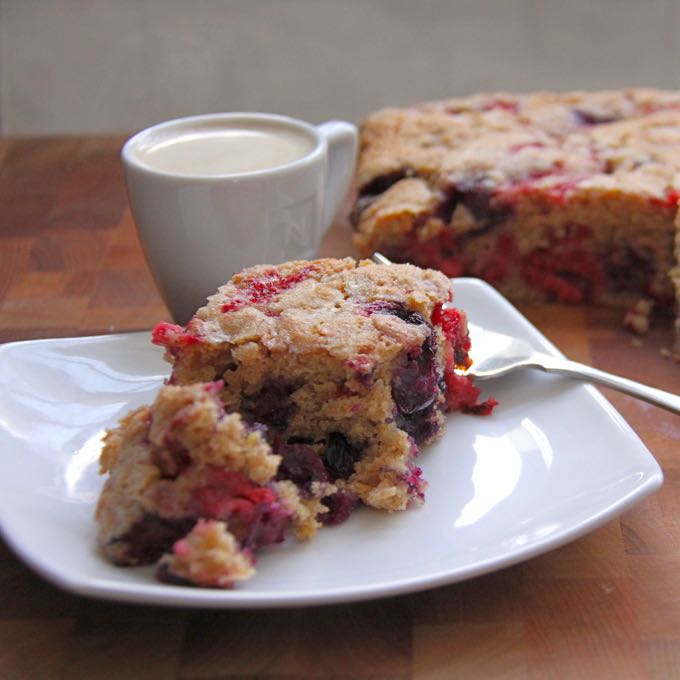 This Berry Breakfast Cake highlights the berries freshness without over powering its flavor. The berries melt into the cake, creating a jam-like effect that you are going to LOVE!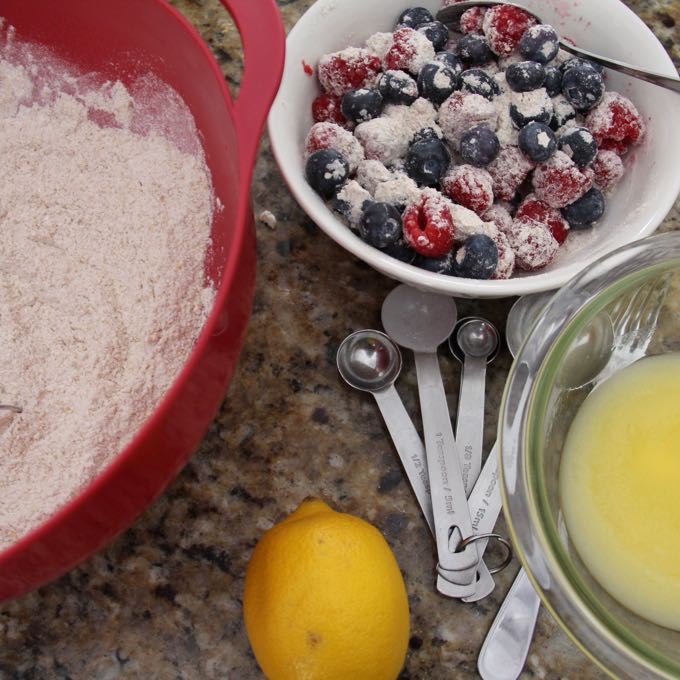 It starts with simple ingredients. If you don't have any buttermilk on hand, you can make it from plain milk with a spoonful of lemon juice. the mixture won't be as thick or creamy as buttermilk but it will do it's duty well.
I like to make this in a square pan but feel free to make this recipe into muffins. Just remember to shorten the cooking time a little and keep a close eye on them so that they don't burn.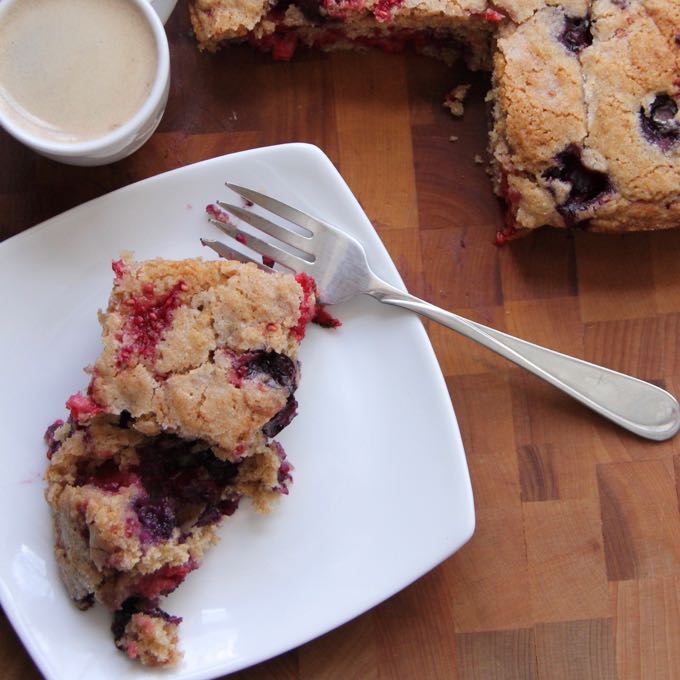 And here it is – deliciousness! Enjoy!
Berry Breakfast Cake
Ingredients:
½ cup unsalted butter, softened
Zest from 1 large lemon
7/8 cup* + 1 tbs. sugar (1 tbs. is for sprinkling on top).
1 egg, room temperature
1 tsp. vanilla
2 cups whole-wheat flour
2 tsp. baking powder
1 tsp. kosher salt
1 cup fresh blueberries
1 cup fresh raspberries
½ cup buttermilk
* 7/8 cup = 3/4 cup + 2 tablespoons
Directions:
Preheat the oven to 350ºF.
Grease a 9-inch square baking pan with butter or coat with non-stick spray.
Cream butter with lemon zest and 7/8 cup of the sugar until light and fluffy.
Add the egg and vanilla and beat until combined.
Toss the blueberries with ¼ cup of flour, then combine the remaining flour, baking powder and salt.
Add the flour mixture to the batter a little at a time, alternating with the buttermilk.
Fold in the berries.
Spread batter into pan.
Sprinkle batter with remaining tablespoon of sugar.
Bake for 35-45 minutes.
If a toothpick inserted into the center comes out clean, it's done. Let cool for 15 minutes before serving.