Holiday Champagne Cosmo
Ingredients:
1-1/2 cups cranberry juice cocktail, chilled
1/2 cup Grand Marnier
3 Tbs. fresh lime juice
8 thin strips of lime zest (from 2 limes), each about 1/4 inch wide and 3 inches long
2 bottles (750 ml) brut sparkling wine or Champagne, chilled
Directions:
Combine the cranberry juice, Grand Marnier, and lime juice in a small pitcher and mix well.
Hold a lime strip over a tall Champagne flute, twist or tie it into a single knot to release the essential oils, and drop the zest into the flute.
Repeat with the remaining zest and seven more flutes.
Directions:
Divide the juice mixture equally among the flutes.
Top each flute with the sparkling wine (depending on the size of your flutes, you may not need all of the wine). Serve immediately.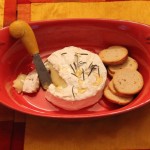 Baked Honey Brie
Ingredients:
1 round brie
2 tsp. of runny honey
2 tsp. of olive oil
2 tsp. of fresh rosemary
2 tsp. of fresh lavender
Directions:
Combine olive oil and herbs.
Cut rind about 5-10 mm from the edge.
Sprinkle olive oil herb mixture over cheese
Bake at 350 degrees for 20 minutes or until cheese is melted
Drizzle honey on cheese
Serve with fresh baguette or crackers of choice.