This is my new partner in crime, Mrs. Stein, and together we have developed a video, cocktail and food pairing series called "It's 5 o'clock Somewhere." Come join us on out adventures!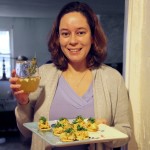 Festive Apple Cider & Cranberry Sangria
Ingredients:
1 1/2 cups cranberries
 1 Granny Smith apple, cored and diced (skin left on
 1 Gala apple, cored and diced (skin left on)
1 Red Delicious apple, cored and diced (skin left on)
1 Bartlett Pair, cored and diced (skin left on)
 1/2 cup granulated sugar, plus 2 tablespoons (divided)
7 rosemary sprigs
1 bottle white wine (Pino Grigio)
 1 cup club soda
1 cup apple cider
2 tbs. raw sugar
Directions:
In a large pitcher, combine the cranberries, apples, pear, 1/2 cup sugar and
1rosemary sprig.
Pour in the liquid: pinot grigio, club soda and apple cider. Stir to combine.
Place the pitcher in the refrigerator to chill for 1 – 2 hours.
Meanwhile, fill a shallow bowl with warm water.
Fill another shallow bowl with the remaining 2 tablespoons of granulated sugar.
Gently dip the remaining rosemary sprigs in the water, and gently shake off any excess water. Dip the sprigs into the sugar and roll to coat. Shake off any excess sugar and set aside on a paper towel.
Set aside the shallow bowl of water, and fill yet another shallow bowl with the
Raw sugar.
Dip your glasses into the water and then dip into the raw sugar. Set aside.
When you are ready to serve. Pour the sangria (along with some of the fruit) into your glasses, garnish with the rosemary sprigs and enjoy!
Paired with:
Rustic Chickpea Hummus & Kale Crostini
Ingredients:
• 1 whole wheat baguette, sliced on the diagonal ( or melba toasts)
• 1, 15 oz can of chickpeas
• 1 Tbs plus enough to drizzle, olive oil
• Fresh thyme
• Salt and pepper
• 1 lemon, juice and zest
• 1 clove garlic
• 1 C raw kale
Directions:
Slice the baguette thinly on a diagonal.
Drizzle with olive oil and toast in the oven. In a bowl, add rinsed chickpeas.
Mince garlic, nearly to a paste, and add to the chickpeas.
Pour 1 tbs. olive oil into the chickpea mix with salt, pepper, and lemon juice to taste. Mash ingredients in the bowl.
Remove the toasted baguette and slather on the hummus.
Dice the kale and arrange on top.