With 613 seeds, the pomegranate is a known symbol of fertility. If you have some free time on your hands, go ahead and count them…Peanut just did and it was confirmed!
Pomegranates are a holiday food: they are bright and red; sweet and tangy and I always buy a few around Thanksgiving and use them in a variety of ways through out the month of December. I especially like pomegranate seeds in a salad with toasted pine nuts or in a martini….
How do you like to eat pomegranates?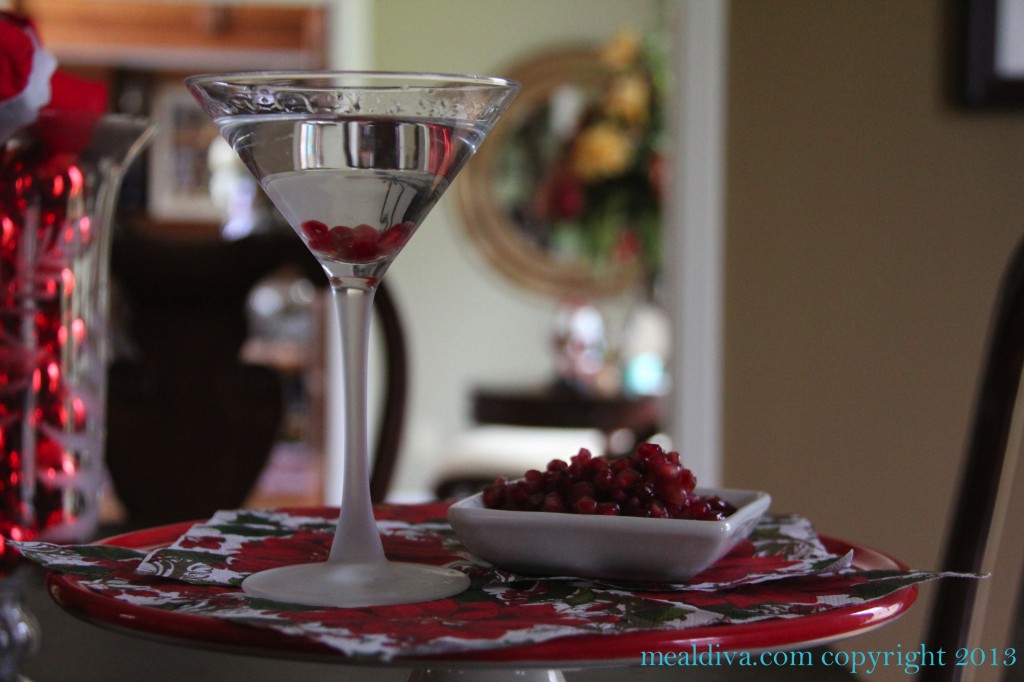 I wish you a holiday season filled with happiness, love, joy and pomegranates. Below is a list of the top 11 things that MealDiva likes to do with pomegranate seeds. Happy Holiday's!
1. Snack on plain pomegranate seeds, right out of the fruit
2. Pomegranate Breakfast Bowl:
This is a great, healthy way to start your day!
Ingredients:
Yogurt, whatever kind you like (I use coconut yogurt)
2 tbs. granola
1 tbs. pomegranate seeds
A drizzle of honey
Directions:
Layer it all together in a bowl and enjoy!
3.  Spicy Pomegranate martini:
The jalapeno adds a nice element to the sweet drink.
Ingredients:
1-cup ice
1 lime, juiced
1 ½ oz. vodka
1 oz. simple syrup
½ oz. orange juice
½ oz. passion fruit juice
½ oz. pomegranate juice
1 jalapeno pepper, sliced
Directions:
Put ice into a shaker.
Pour the limejuice, vodka, simple syrup, orange juice and passion fruit juice over ice.
Shake the mixture together and strain into a martini glass.
Drizzle the pomegranate juice down the sides of the glass to create a little color difference.
Garnish with the jalapeno.
4. Pomegranate-Walnut Braised Chicken from Aida Mollenkamp: Wow! This chicken is not only beautiful but also scrumptious!    

5. Add flavor and color to your drink: muddle the seeds in a glass before adding to lemonade or your favorite alcoholic beverage.
6. Salad Sprinkles: Toss some on your favorite salad!
7. White Chocolate Tart from Feastie.com: This is a gorgeous, festive treat! 

8. Pomegranate Salsa
My kids LOVE this as a snack after school!
Ingredients:
1 can white beans, rinsed
2 1/2 cups pomegranate arils
1 large cucumber, seeds removed and diced
1-3 jalapeños, seeds removed and minced ( 1-3 based on how hot you want it)
1 red onion, minced
1/4 cup Italian parsley, mined
¼ cup cilantro, minced
1 tbs. olive oil
Squeeze of half a lime
Salt and pepper to taste
Directions:
In a medium bowl, combine all of the ingredients and toss to combine.
Serve with pita chips or corn chips
9. Pomegranate-couscous stuffing: couscous stuffing is really tasty and the pomegranate adds a surprise pop of flavor to the dish!
10. Pear and Pomegranate Crumble
You can never go wrong with a crumble.
Ingredients:
5 pears, sliced (I keep the skin on but peeling them is optional)
1-cup pomegranate seeds
½ tsp. vanilla extract
3 tbs. sugar in the raw
1 cup plus 3 tbs. whole-wheat flour
1-cup old fashion oats
1-cup brown sugar
2 sticks or 1 cup of butter, cold, cut into small cubes
Directions:
 Preheat oven to 350
Grease a casserole dish with butter or PAM
In a bowl, combine pears, pomegranates, vanilla, sugar in the raw and 3 tbs. flour
Toss gently to combine
Pour fruit/sugar mixture into a casserole dish
In a separate bowl, combine remaining flour, oats and brown sugar.
Add butter and, using your hands, crumble
Pour topping over fruit mixture
Bake for 45 minutes
Serve A La Mode with vanilla ice cream! Enjoy!
11.  Mustard Pomegranate Pork Tenderloin: This is a wonderful dish from all recipes
If you like cooking with festive ingredients, be sure to check out my cranberry sauce and chocolate bark bites and pink peppermint cupcakes as well.