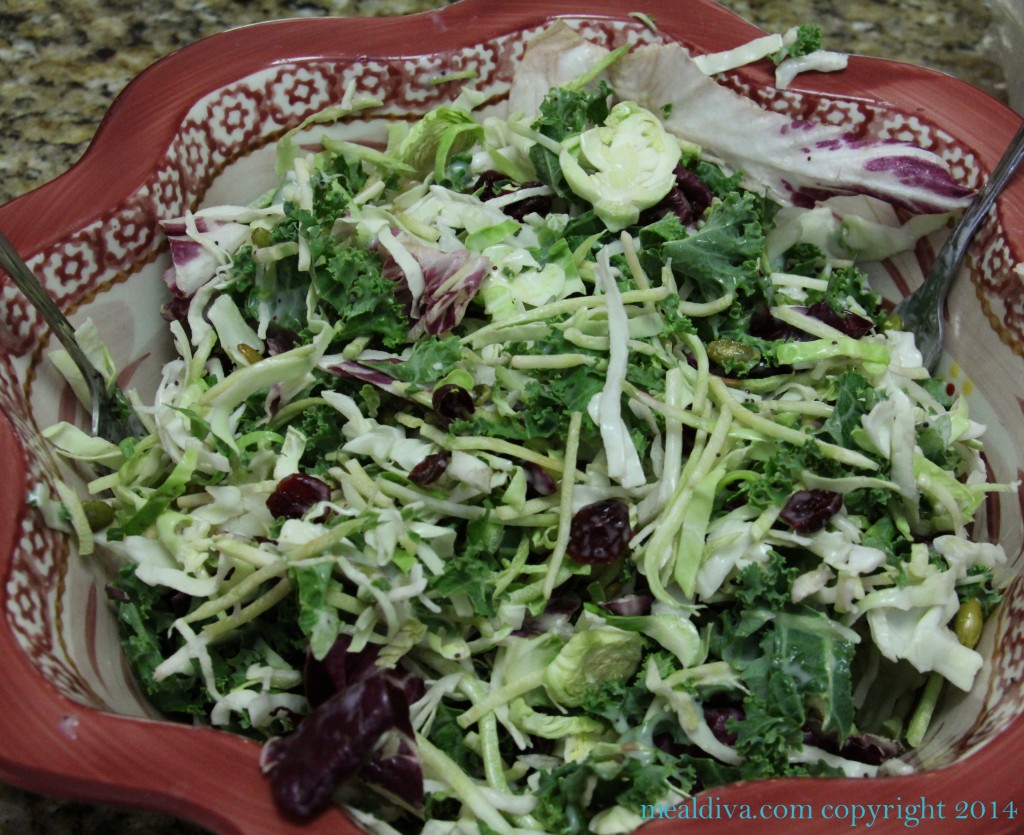 A Salad is:
1. A bowl of plain greens topped with a sad looking tomato and dried out carrot slices then tossed with a boring, chemical filled non-fat dressing. You gage it down and then feel hungry an hour later.
2. A plate of fat and carbohydrates on iceberg lettuce– considerably worse for you than a Big Mac from McDonalds.
High calorie cheeses, dressings, fake meat and other toppings can ruin the vegetables that make a salad healthy — not only can they tip the calorie scale but the fat and salt adds up as well. Lettuce doesn't cancel out the bad calories — here are some examples:
Panera Bread's Grilled Chicken Caesar Salad: 560 calories, 34 grams of fat, 1,270 mg sodium
Applebee's Grilled Shrimp and Spinach Salad: Spinach and shrimp are both healthy choices but check out the calories: 1050 with 11g saturated fat and 2650 mg of sodium. Ouch.
Applebee's Oriental Chicken Salad with Oriental Vinaigrette:
This salad is described as a bed of "fresh Asian greens" and that's where the healthy part ends. These greens are served as a bed for deep-fried chicken and carbohydrate-heavy crispy noodles. With out the dressing, this salad is 850 calories. With the dressing, it's a whopping 1430 calories with 98 g saturated fat and 1200 mg of sodium.
California Pizza Kitchen's Thai Crunch Salad with Fresh Avocado: this salad is topped with two different dressings and fried wonton strips. The generous portion doesn't help either. A salad with the word "crunch" probably has something fried on it, so stay away. It's a whopping 1399 calories, 10 g saturated fat and 1065 mg of sodium.
For a complete list, check out Men's Health and 20 Salads Worse then a Whopper.
High calories, bad saturated fats and enough sodium to last you a lifetime—all in one salad. Who's scared?
With salads like this lurking in menus, it's important to remember the golden rule of healthy salad eating: if the salad has "fried" anything listed, it's not good for you.  Don't order it. Period.
Now, lets save your salad.
To make sure your salad is healthy, make sure it includes these essential salad toppers:
Fiber: is known to aid both digestion and weight loss.
Fruits and vegetables: packed with vitamins and antioxidants.
Whole grains: vitamin, calcium, and fiber-rich– they are full of complex carbohydrates, keeping you full longer.
Lean protein: helps build and maintain muscle. It's digested slowly and keeps your blood sugar levels steady and your belly full.
"Good" fats: avocados, olive oil, and nuts can lower your LDL or "bad" cholesterol. But you don't want to consume too much.
Have no fear, if your scratching your head, wondering how to include these in your salad bowl, I've scoured the Internet and found some GREAT salads for you to try:
If you have a GREAT, healthy salad recipe or suggestion, please share it! Start typing under "speak your mind!" We can help each other eat a little healthier!