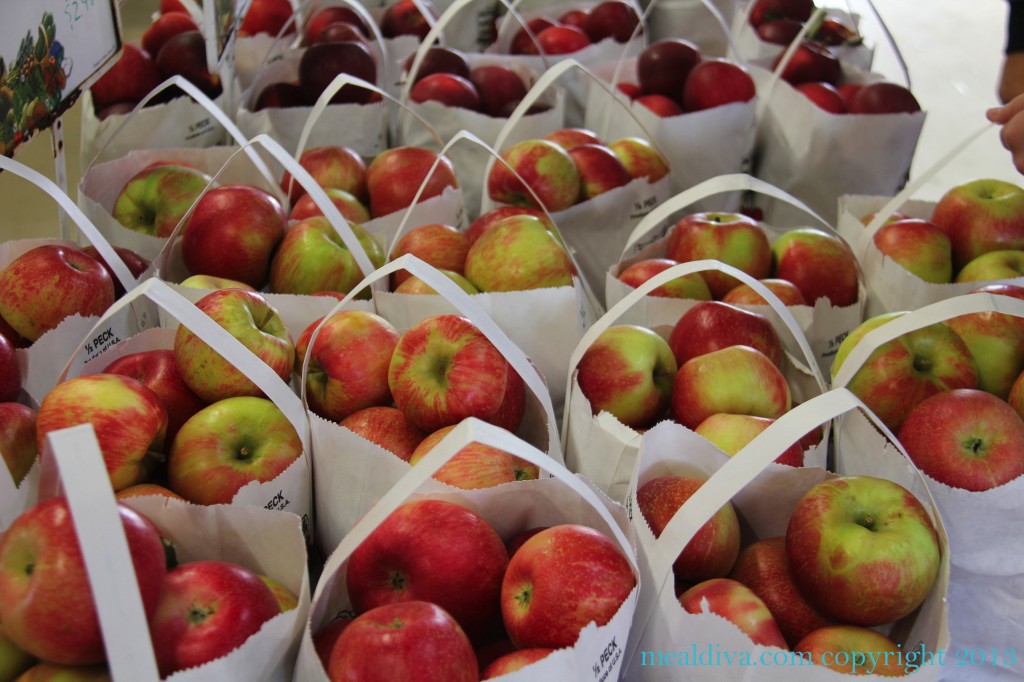 Do you eat an apple a day? Maybe an apple a week? Either way you can benefit from it because apples are a good source of fiber and vitamin C. Apples are available year round but they hit their peak in the fall when many varieties are harvested from local farms. Here are some of the common types of apples you can find at farm stands:
Gala – a very sweet/crisp apple with a lemony flavor and crunchy texture. They are best eaten raw.
Empire – an aromatic but slightly bland apple that is juicy and hearty. When they are cooked, they hold their texture well and they are best eaten raw or cooked.
Granny Smith – a very tart, lemony/crisp apple with a mellow tartness and a juicy, firm texture. They are best eaten cooked.
Golden Delicious – have a wildflower, honey taste and a very juicy texture and are best eaten raw.
Jonagold – a tangy but sweet pear-like apple with a flat flavor and a squishy texture when cooked. They are best eaten raw.
Pink Lady – a complex and perfume apple with a very firm, dry and crunchy texture. This apple is best cooked or raw.
McIntosh — a wine/cherry old fashioned apple that tastes like honey and falls apart when cooked. They are best eaten raw.
What's your favorite kind of apple? Do you pick your own?
To store, keep apples in a cool, damp space such as a basement. If you don't have a basement or want your apples closer to the kitchen, store them in your refrigerator. Place them in a plastic bag with holes along with a damp paper towel.
If you're looking for some apple recipes, be sure to check out the list below! Happy Apple Picking Season! Enjoy!
Early Fall Pork Tenderloin
Kid-Friendly Caramel Apples
Apple Muffins
Grilled Sausage Kabobs with Apples
Apples & Pear Pie
Butternut Squash & Apple Soup
Puff Pastry Filled Fall Fruit Pockets