Can't go wrong with a freshly made salad – right? Wrong!
Last month I wrote about the hidden calories and fats in many restaurant salads and now it's time to address the hidden ingredients in most store-made- salad dressings. There maybe some nasty ingredients lurking in pre=made salad dressings that are not only harming your diet but your health as well.
Many Store-made Salad Dressings contain:
 Fairly significant amounts of high fructose corn syrup (HFCS). Unless you're in a health food store, it's almost impossible to find a salad dressing that doesn't contain large amounts of HFCS.
 Heavily refined soybean oil and/or refined canola oil… both of which are VERY unhealthy.
Misleading labels: Olive oil is healthy, but when it comes to store-bought dressings, even some that claim to be "made with olive oil" on the FRONT actually has very little in it. Always read your labels because many "olive oil" dressings are often full of refined soybean oil or canola oil with trace amounts of actual olive oil.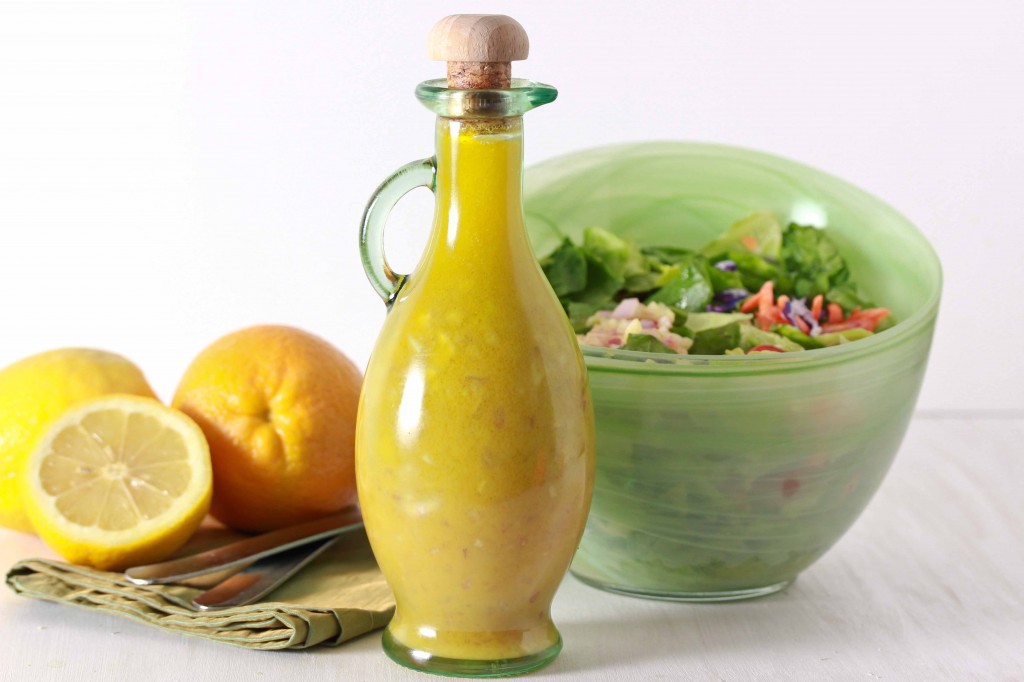 As a matter of fact, sometimes I'm completely shocked at what's hiding in pre-made and pre-packed food! I feel like manufacturers don't care if they are poisoning us as long as they make a profit. And so, I encourage you to be a smart consumer and read the labels on the food you buy!
On to making salad dressings:
The key to making a FANTASTIC vinaigrette is as follows:
Start with good ingredients.
Properly emulsify the oil with the vinegar. Adding an ingredient like Dijon mustard helps the emulsification happen faster.
Always add in lots of yummy flavors like garlic or salt and pepper.
A basic salad dressing should always be 3 parts oil to 1 part vinegar. Here's a really a simple vinagrette recipe that always works:
Simple Vinagrette
Ingredients:
¾ cup olive oil
¼ cup white wine vinegar
Salt and pepper to taste.
Directions:
Place all of the ingredients in a blender and mix for 15 seconds until fully combined. You could also whisk the vinegar in a bowl and add the olive oil in a steady stream until well combined.
Add the salt and pepper and away you go.
Pretty easy right?
Here some more go-to recipes for tasty, easy to prepare salad dressings:
Easy Balsamic Vinaigrette
Ingredients:
2 tbs. honey
1 tbs. Dijon mustard
1/2 tsp. sea salt
1/2 tsp. black pepper
1 large garlic clove, smashed
1/4 cup balsamic vinegar
3/4 cup extra virgin olive oil
Directions:
In a small bowl, whisk together the honey, balsamic, mustard, salt, pepper and garlic.
Add the oil in a steady stream, whisking constantly.
Keep whisking until the dressing is emulsified.
Store in a jar with a lid and refrigerate.
Honey Mustard Dressing
Ingredients:
¼ cup mayonnaise
1 tbs. yellow mustard
1 tbs. honey
½ tbs. lemon juice
Directions:
In a small bowl, whisk together all of the ingredients.
Store in a jar with a lid in the refrigerator.
Shake well before serving.
French Dressing
Ingredients:
1 cup extra virgin olive oil
2/3 cup ketchup
½ cup white sugar
½ cup white vinegar
¼ yellow onion, grated
1 tbs. lemon juice
1 tsp. dry mustard
1 tsp. paprika
1 tsp. black pepper
1 tsp salt
Directions:
Place oil, ketchup, sugar, vinegar, onion, lemon juice, mustard, paprika, salt and pepper in a jar with a tight fitting lid. Cover and shake until blended.
Refrigerate for a few hours before serving.
Shake again before serving.
Do you have a favorite homemade salad dressing recipe? If so, send it to me and I'll add it to the list!