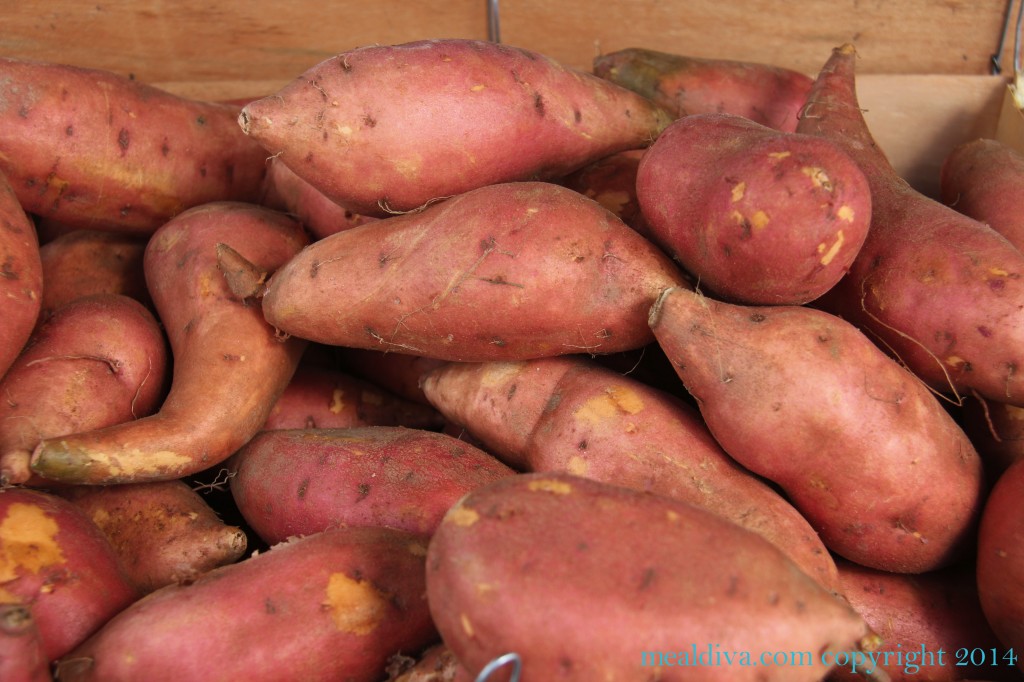 The healthy, simple sweet potato: it's inexpensive, delicious and FULL of great vitamins and minerals. Too bad my kids don't eat orange vegetables (with the exception of stuffed sweet potatoes with marshmallows)! I keep telling them that they are missing out on some great healthy benefits because sweet potatoes are:
High in vitamin B6: which is linked to helping to prevent heart attacks and aiding in digestion!
Great sources of vitamin C: this helps our immune system stay strong and also helps keep our skin looking young!
Contains Vitamin D: this helps our immune system stay strong and is critical for wintertime when we aren't out in the sun as much!
Contains Iron: this helps us have adequate energy levels.
They are a good source of magnesium: Ahhh… the anti-stress mineral. Need I say more?
Full of potassium: this helps your muscles and kidneys!
They taste sweet but are low in natural sugars: this means that the natural sugar is released slowly into our bloodstream and gives us a balanced source of energy.
They are rich in beta-carotene and other carotenoids: this comes from their orange color. Carotenoids help our eyesight, immunity and help ward off cancer and helps to protect against effects of aging.
They are easy to prepare.
Baking a sweet potato is the healthiest way to enjoy them. Here's how to do it:
To begin, wash your potatoes then prick it all over with a fork ( this is especially fun if you have had one to many snow days –just let it all out on your sweet potato).
Next, line a cookie sheet or baking pan with foil and bake in a 400 degree oven for 50 minutes or until the potato can be easily pierced with a fork.
To serve, cut an X on the top of your potato.
Sweet potatoes taste wonderful with just a pat of butter or, if your in the mood for something sweet, sprinkle on some brown sugar and cinnamon. If your in the mood for something savory, sprinkle on some Sea Salt or mixed Italian seasonings. Voila! Your sweet potato is dressed to impress.
Sweet Potatoes are also tasty when grilled, stuffed or made into fries or when baked in a casserole.
Simply healthy. Simply delicious. Enjoy!