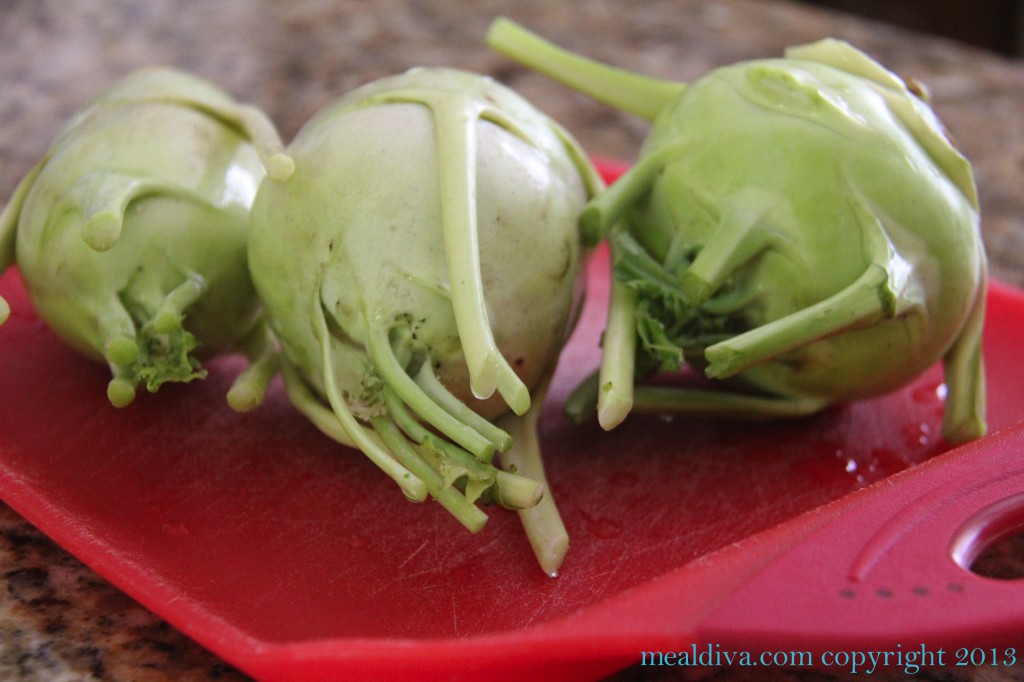 Kohlrabi: I think I'm in love. Oh my goodness… let me repeat that… I'M IN LOVE! Today I tested out 7 different recipe's using this radish-like vegetable and my cooking adventure turned into a romance. Spud claims to like these better then kale chips… I never thought such things were possible!
First, you might be asking yourself: what is she talking about? What is Kohlrabi? A lot of people don't know what it is but I promise you that you will like it when you try it!
When I posted a picture of it on Facebook, many people guessed it was kale or fennel. The leaves do look a little kale-like while the bulb does look a little fennel-like. Personally, the stalks reminded me of broccoli. The correct guessers were local NJ CSA share members who had already run into them at their farm stands and CSA pick-ups. This fennel-kale-broccoli look- a- like is actually related to cabbage and broccoli. As I was cutting them open, the smell and taste did in-fact remind me of cabbage: it's crunchy and sweet with a little radish-like bite to it.
Meanwhile, my kids told me that it looks "alien," almost like a teleported vegetable from Mars and that they were not going to help with the taste testing. That changed as soon as I pulled out cheese…
Regardless of how strange it looks, it is very versatile, has no fat and is only 36 calories a cup!
We tried eating it several different ways:
Served raw with ranch dip. It was good but not mind-blowing!
Served as a substitute for radish in my radish salad ( http://mealdiva.com/?s=radish+salad  )it was good but I wasn't in love.
We steamed it.
We blanched the leaves for 3 minutes, chopped them and then sautéed them in olive oil with salt and pepper. This was very good!
All of these are defiantly worth trying! However, in my opinion, these are the best two ways to prepare, eat and enjoy Kohlrabi:
First, sauté it! Nicole Ort from Ort Farms in Long Valley, NJ suggested, "Just sautéing it in a frying pan with garlic and a little olive oil or butter. It crisps up and tastes delicious!"  She was right! It was wonderful!
Second, roast it! Yes, roasted with Parmesan cheese. Seriously it doesn't get much better then this. After Spud, Stew, Peanut and I finished eating the entire pan, I sat there picking at the left over melted cheese… I might need therapy…the entire dish was really yum, yummy, simply delicious! In case you're still skeptical, I have to add one more thing: this recipe had the same look, texture and mild flavor as roasted potato fries. Stew even dipped his in ketchup.
Here's the recipe:
Preheat oven to 450. Peel Kohlrabi and then cut it into slices. Cut each slice into strips.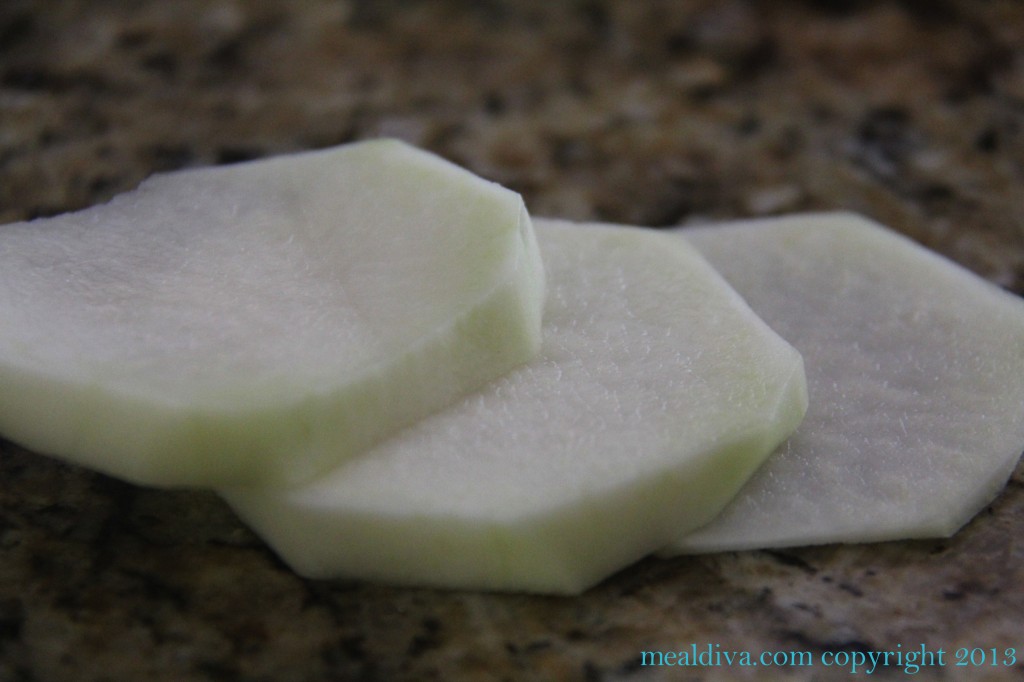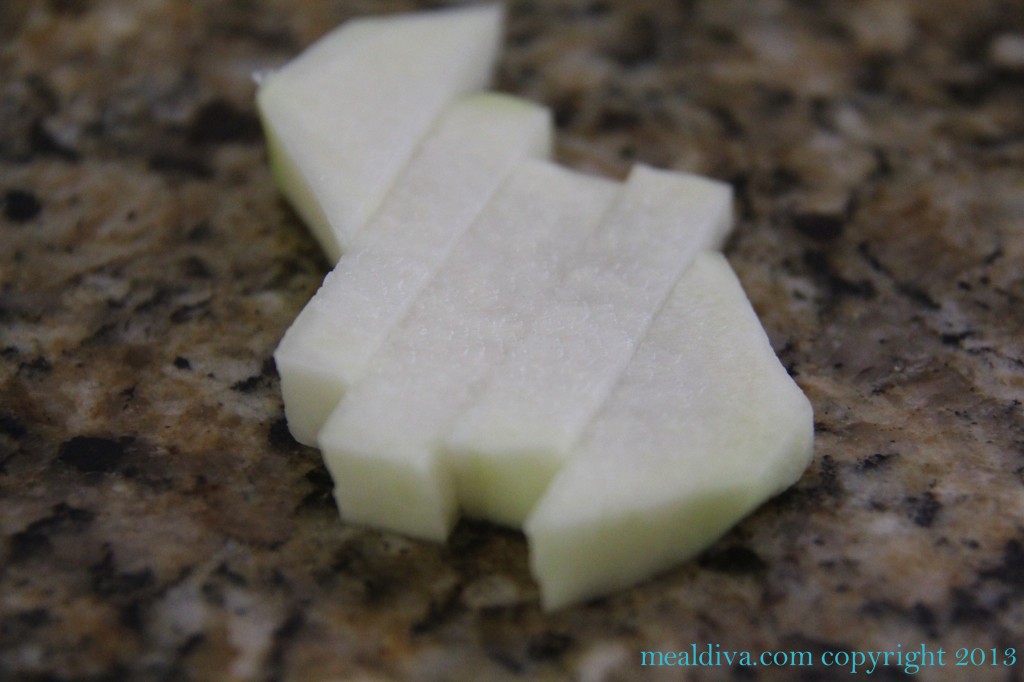 In a bowl, combine olive oil, garlic, salt and pepper then add kohlrabi and toss to coat.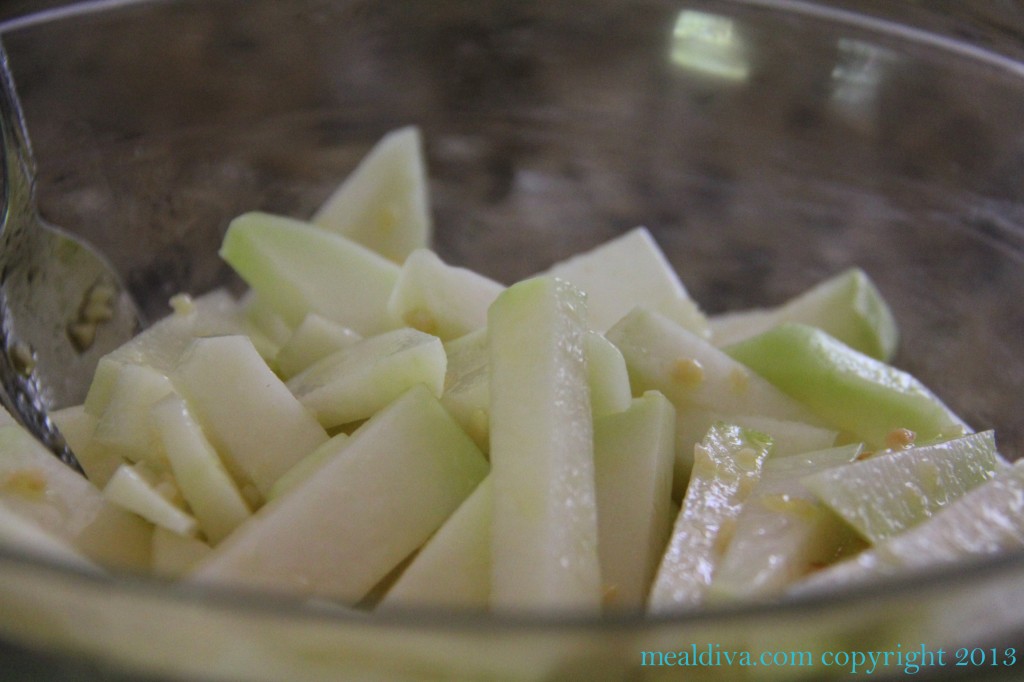 Spread it in a single layer on a baking sheet and bake in the oven for 25-30 minutes until browned.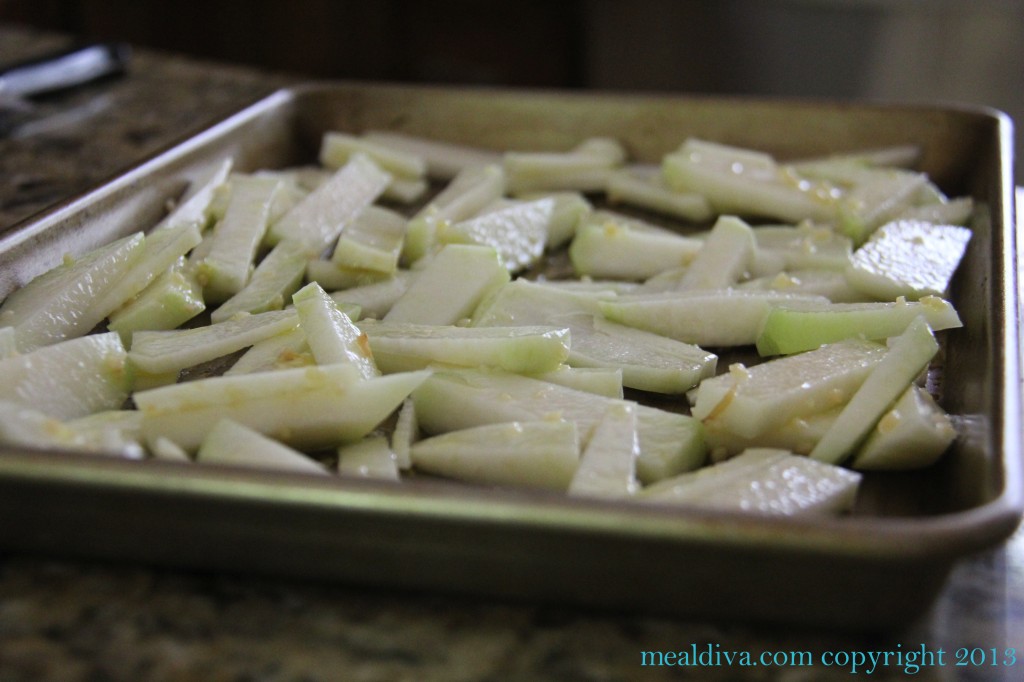 Remove from the oven and sprinkle with cheese. Broil for 2-5 minutes until cheese is brown and then serve them HOT! They make a great after school snack or side dish!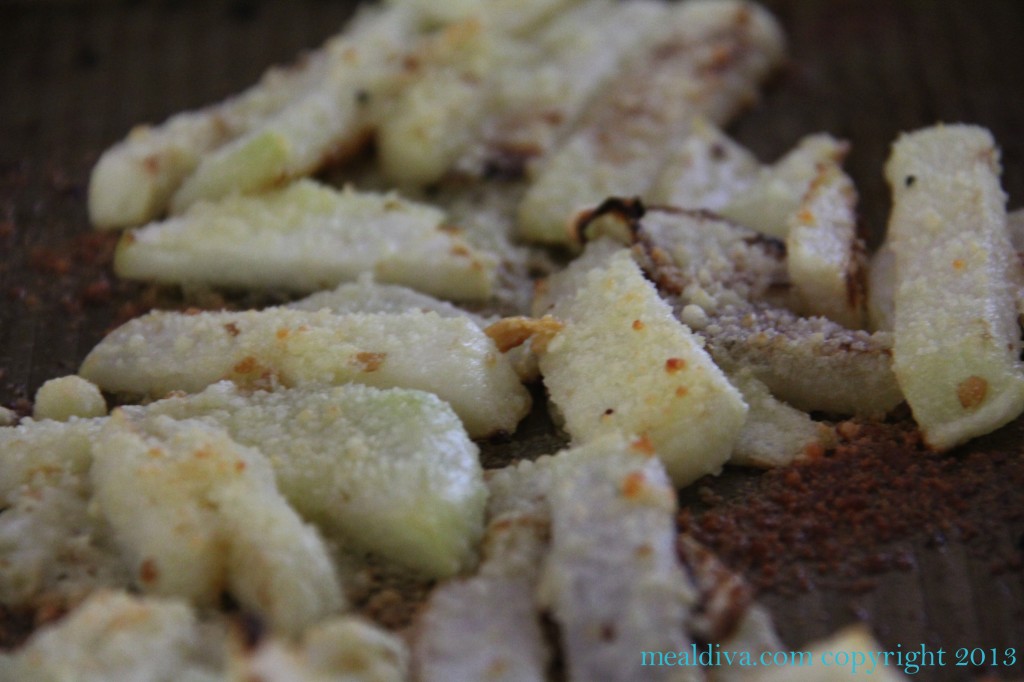 Roasted Kohlrabi
Ingredients:
3 Kohlrabi bulbs, peeled
2 tbs. olive oil
2 garlic cloves, chopped (or 1 tbs. pre-chopped garlic)
Salt and pepper to taste
¼ cup Parmesan cheese
Directions:
Preheat oven to 450 degrees
Cut the kohlrabi into halves then into strips (as shown above)
In a bowl, combine olive oil, garlic, salt and pepper, tossing to combine.
Add kohlrabi to the bowl and toss until it's well coated.
Spread it in a single layer on a baking sheet
Bake in the oven for 25-30 minutes until browned.
Remove from oven and sprinkle with cheese.
Return pan to the oven and broil for 2-5 minutes until cheese is brown and melted.
Serve HOT! Enjoy!
So that's my Kohlrabi cooking adventure with winning recipes! Go pick some up at Ort Farms and fall in love!