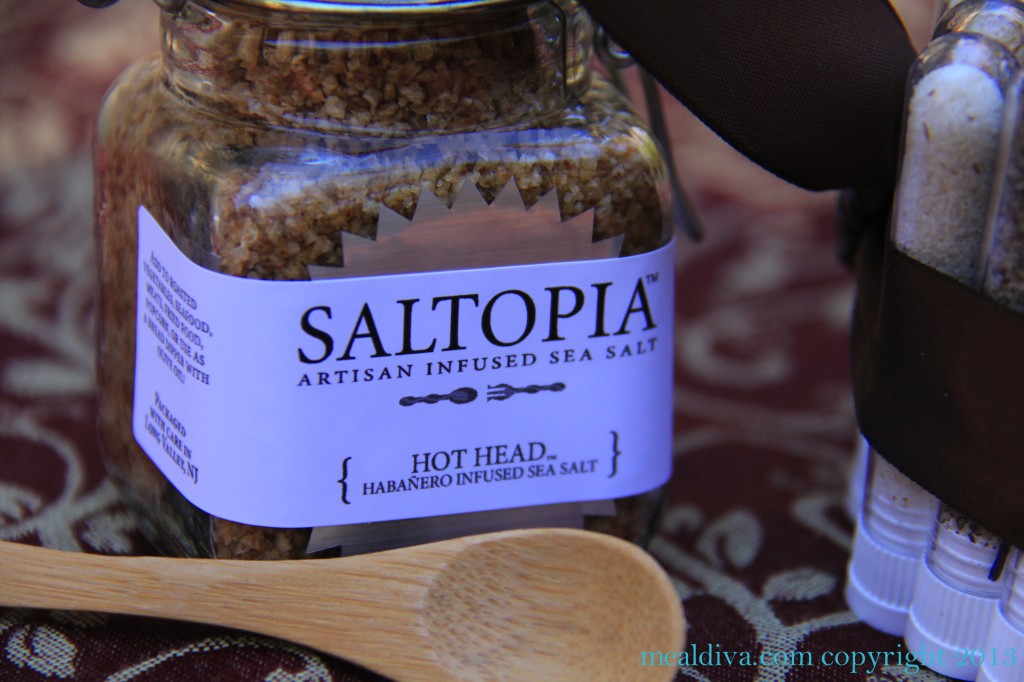 It's time to forget the table salt and replace it with Sea Salt—a healthy, gourmet alternative. Sea Salt is obtained naturally from the sea and does not go through any processing that alters its natural make up. In addition, it contains many essential trace minerals that your body needs to function at it's best while it's supermarket counterpart is simply processed, iodized salt that is full of chemicals. With that being said, I had the pleasure of sitting down with Kimarie Santiago, the creator, founder and owner of Saltopia Artisan Sea Salts to learn why she started Saltopia. During my visit I also learned that it's impossible to find a disappointing Sea Salt combination amongst her salts –they push the boundaries of flavors–and they are fantastic.
The originator of gourmet Saltopia, Kimarie, uses "only natural Sea Salts from all over the world" and infuses them with distinct, delectable and locally sourced flavors such as basil, cabernet and vanilla. The sea salts will not only enhance your favorite dish but also provide you with a healthy "salting experience." Saltopia salts are like nothing I have ever tasted – they are packed full of yummy flavors and I often find myself enjoying just a pinch on the tip of my tongue. In fact, sometimes Spud, my five year old asks for a "sampling" of her favorite –Ginger's Crush – an orange and ginger infused sea salt that pairs well with stir fry's and fruit salads. OMG—amazing.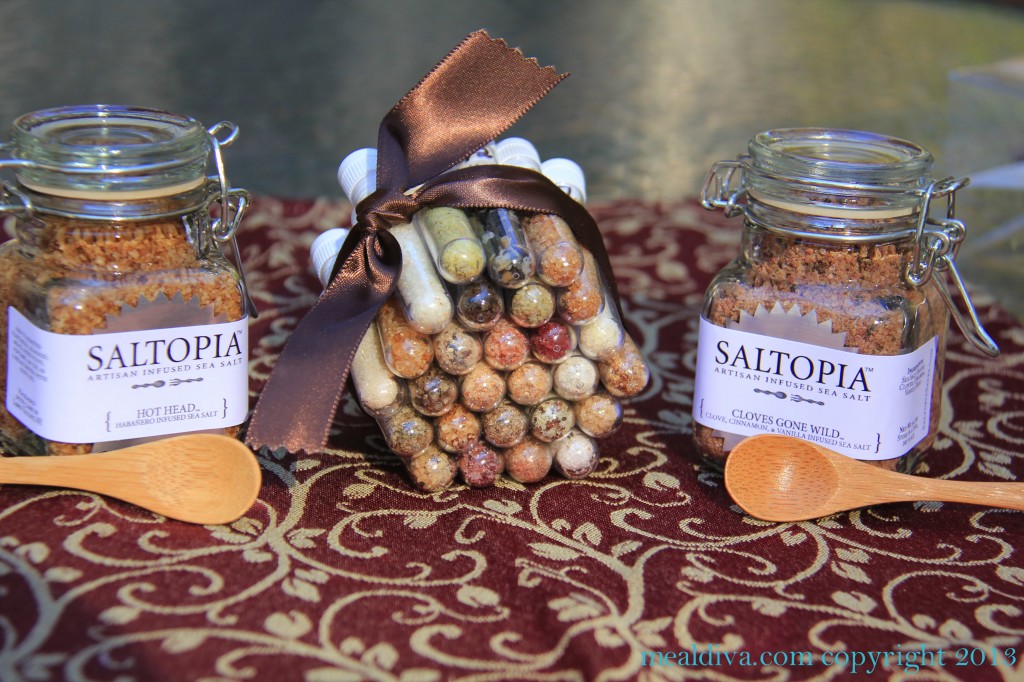 When we simply love something we eat, it's natural that we make it as a reflection of the same simple love. Kimarie is driven by her passion for cooking, sustainable agriculture and health consciousness. In the beginning, she was a ballerina, living off of grapefruit and Sea Salt. Then, when she moved out of the city, she started infusing natural Sea Salt with various gourmet flavors, often giving them as hostess and holiday gifts. Naturally, her friends and family (especially her husband) encouraged her to share her gastronomist talents with others and launch Saltopia. To start, Kimarie rented a commercial kitchen space in Chester, NJ but after the birth of her second child, she decided to take another leap of faith and build her own commercial kitchen in her home. As the business grew, Jennifer Meiners, a close friend  joined her team . This artisan salt-maker infuses sea salt with locally sourced ingredients, surrounded by friends and family, right in my back yard – in Long Valley, NJ. I think this fact alone increases it's allure…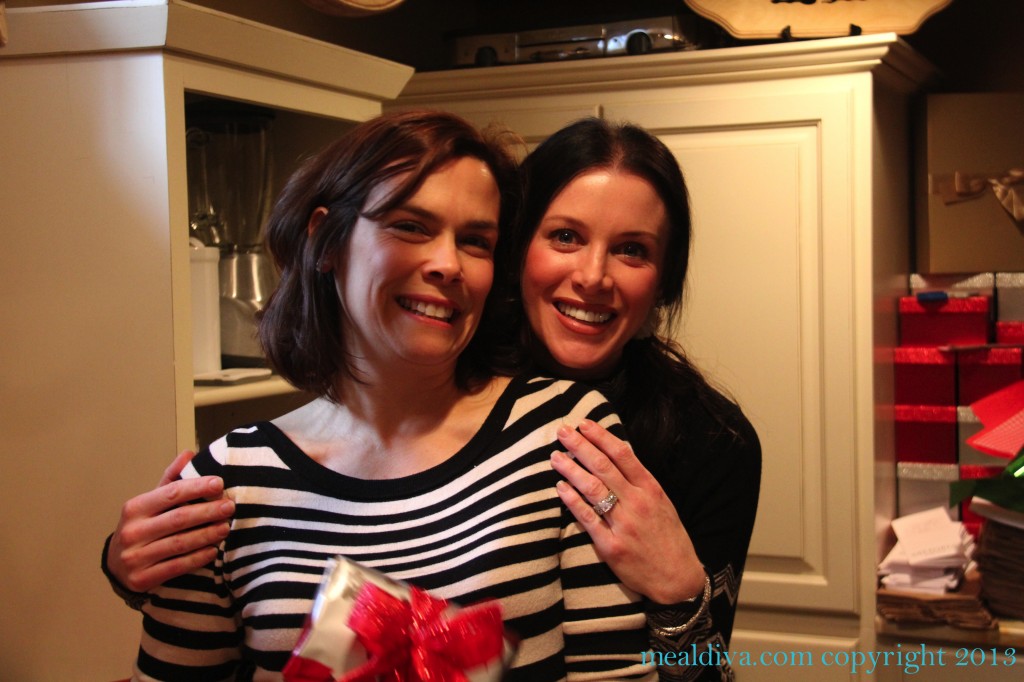 Kimarie is on the right, Jennifer Meiners is on the left.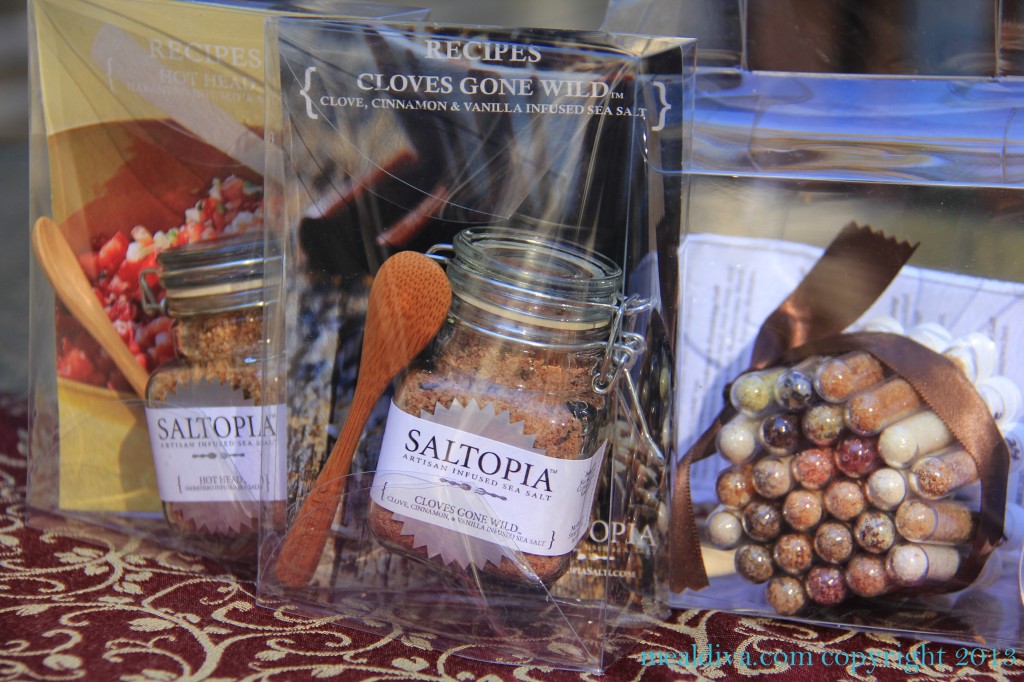 While sitting in the "salt cave," where all of the magic happens, I learned a few things about Sea Salt and Kimarie:
Sea Salt, in it's natural form, is needed for your body to function at it's best. It will:
Increase your quality of sleep
Increase you energy and ability to concentrate
Increase your brain activity
Help with weight Loss
Enhance your Consciousness
Help with hair and nail growth
"Many people experience even more benefits, such as peace of mind, and a sense of "connectedness" that has been previously nonexistent." She went on to tell me stories about customer's that have gone from being unhealthy to vibrant and alive just by removing toxic table salt from their diets and replacing it with nutritious sea salt.
In addition, Kimarie is a fun "foodie." Here are some things that I learned about this magical woman:
MD: What is your favorite thing to cook?
KS: I love cooking seafood! I always find that seafood needs to be prepared exactly perfect and therefore creates a challenge each and every time I step into the kitchen. Even basic recipes such as sautéed shrimp with garlic require attention. For the record: I hate baking. I stink at it. But I'm awesome at eating baked goods! I could have a career in eating cupcakes if I could find a job that paid enough for eating sweet, sugary confections!!
MD: What is your favorite infused sea salt flavor?
KS: That's hard because I love them all so much. I would say that the most commonly used infused sea salt in my kitchen is "Kiss & Tell" garlic infused sea salt. I put it on everything! But I love each of my salts at different times according to what I'm eating or drinking. We now have 29 flavors and 10 more private label flavors for the Blue Olive Market in New York City!
MD: Do you design the recipes that accompany the salt?
KS: I do design many of the recipes that are included with each SALTOPIA jar purchase. Some of the recipes are inspirations from other recipes shared with me. And then many of the recipes come from my customers themselves. I sell my product line to a bunch of professional chefs and gourmet enthusiasts, so these folks have the best recipes!
MD: How many different farms do you source your ingredients from?
KS: During harvest season, we try to overstock on our fresh, organic ingredients! We buy from Uncle Bill's Farm (NJ), Apple Ridge Farm (PA), Sunset View Farm (NJ), Taylor Made Herb Farm (NJ), Valley Fall Farm (NJ)…to name a few. We are also happy buying herbs from friends who can confirm an organic garden or practices. For example, our friend Kathryn Wu and her children have an herb garden in their yard that her children grew. Their basil was some of the most gorgeous basil we've seen and they were kind enough to allow us to harvest a bunch of it for our BASILS LOADED sea salt! Fun, fun!
MD: If you weren't busy building a Saltopia empire, what do you think you would be doing right now?
KS: Cooking and planning dinner parties, I imagine. This is what I did before SALTOPIA launched. I love to set a table, send an "old-fashioned" invite (always themed) and display a meal for friends to enjoy with my husband and I! SALTOPIA has been a part of that for years, already…just no one ever knew.
MD: Finally, what are the top three cooking utensils that you can't live without?
KS: #1 I LOVE my Pampered Chef garlic slicer. It's a ridiculous little plastic pipe with two razor blades on the end and it slices garlic to perfection without ever going near a knife! #2 Crockpot. I never realized how INCREDIBLE this darn invention was until I had kids and started a business. It's lifesaving! And finally, #3 my oversized WOK. It's about 20 inches in diameter and fairly deep. I can do just about anything in that WOK…boil pasta, slow cook rice, stir fry chicken slices, melt chocolate chunks for dipping…Oh how I love my WOK! If you can find a WOK that can be put into the oven as well as the stovetop – forget about any other pot! You can throw all the others away!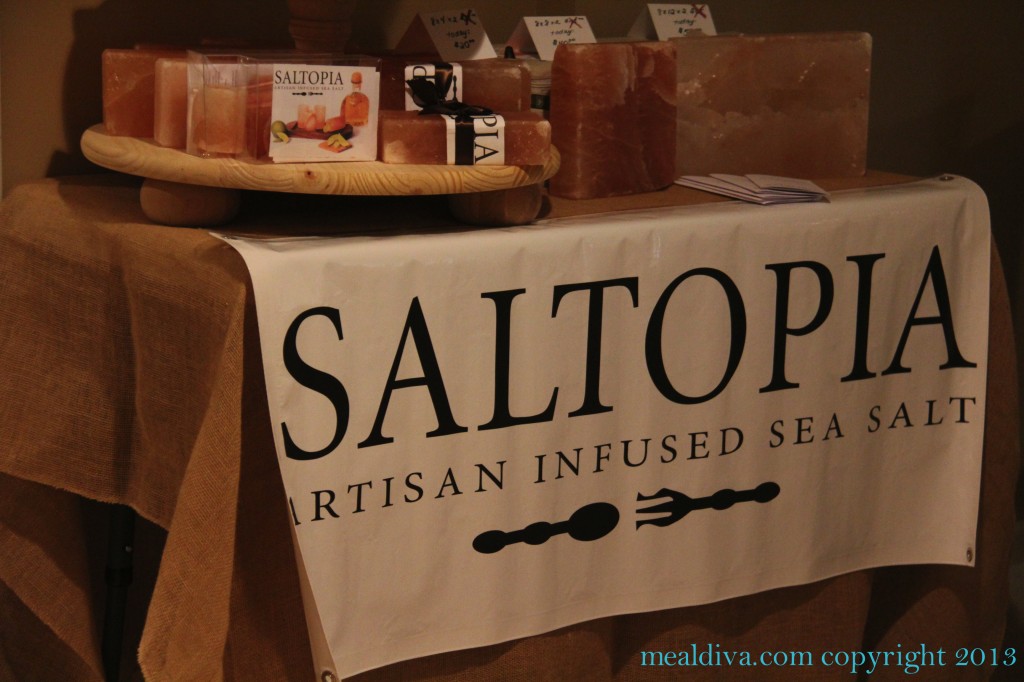 Kimarie is a health conscious food artist who makes amazing Sea Salts: I'm in love. She is also one of the faces behind EatLocalNJ. If you would like to learn more about Kimarie, the health benefits of Sea Salt and how you can use it to make your dishes pop, visit Saltopia's online shop to experience their truly extraordinary products. When you do, make sure to pick up my personal favorite: Dirty Wedding and use it to make mashed potatoes:
Creamy Truffle-Salt-Infused Mashed Potatoes:
Ingredients:
6-8 Yukon fold potatoes
1-cup half-and-half
6 cloves garlic, finely minced
2 tbs. olive oil
1 package baby portabella mushrooms
6 ounces grated Parmesan
2 Tbs. Saltopia Dirty Wedding Sea Salt
Directions:
Peel and dice potatoes, making sure all are relatively the same size.
Place in a large saucepan and cover with water.
Bring to a boil over medium-high heat and then reduce heat to maintain a steady boil.
Cook until potatoes fall apart when poked with a fork.
Heat the half-and-half and the garlic in a medium saucepan over medium heat until simmering.
Remove from heat and set aside.
Heat olive oil in a small skillet and add mushrooms.
Sauté mushrooms until cooked to desired crispiness (I like mine really browned) and adds to garlic cream mixture.
Remove the potatoes from the heat and drain off the water.
Mash and add the garlic-mushroom-cream mixture and Parmesan; stir to combine.
Let stand for 5 minutes so that mixture thickens and then top with Sea Salt.
Serve hot!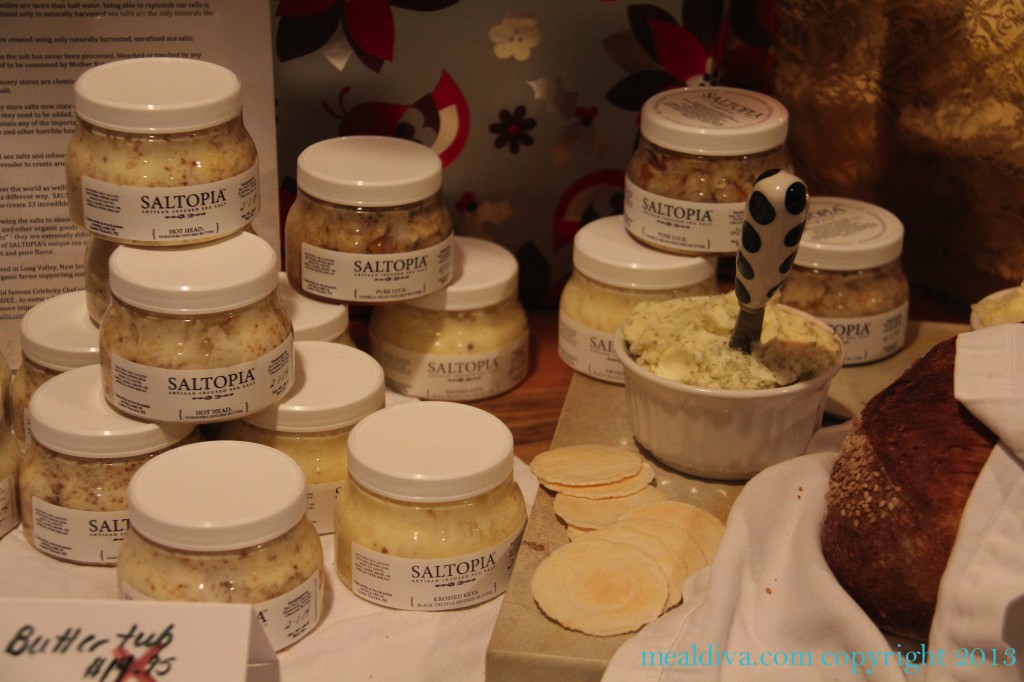 Salt-infused Butter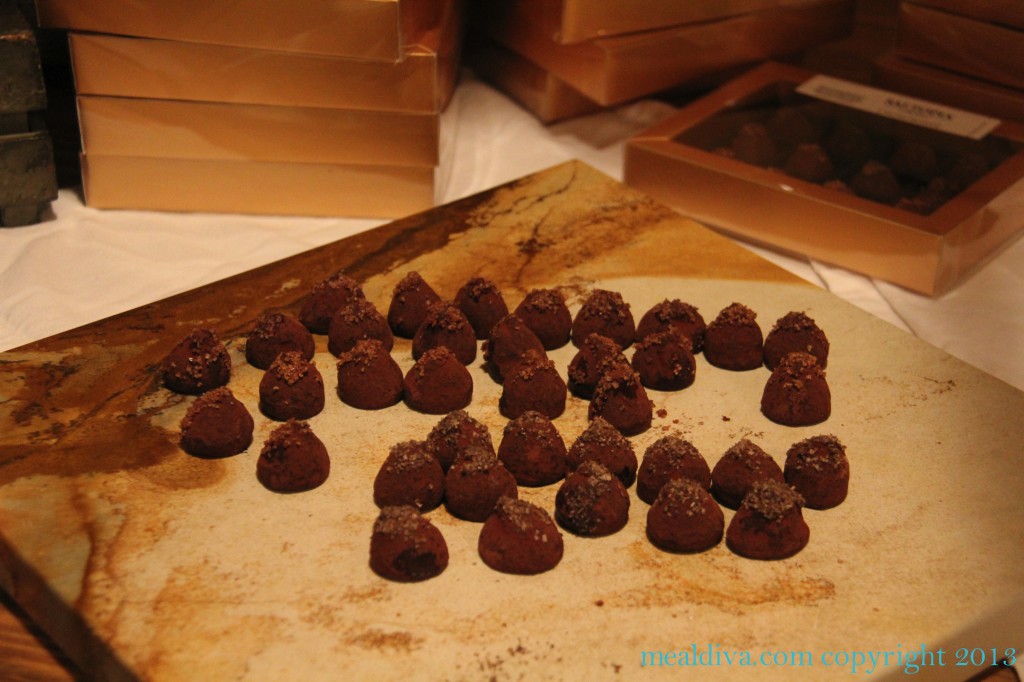 Sea Salt and Chocolate: Yes Please~
You can also purchase Saltopia products at Mini Mac Farm as well as Valley Shepherd Creamery!