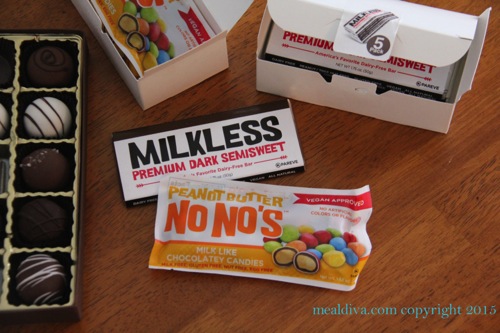 If your looking for Delicious chocolate that is Vegan with no nuts, no dairy, no gluten and no eggs, look no further then Premium Chocolatiers located in Lakewood, NJ. This stuff is amazing and it doesn't taste vegan or gluten-free one bit. Seriously, it tastes like the "real thing."
Chocolate is one of my greatest pleasures as a food-lover; I adore it, and I enjoy finding new raw, vegan and Gluten-free brands. I have gluten-free, dairy free, tree-nut, shellfish and sesame- free needs in my house and Premium Chocolatiers had a large variety of products that met all of them!
The chocolates arrived in the mail and I could feel the good vibes right always. These chocolates are made with love. Plus the packaging was adorable. I ordered their Signature Truffle Collection, a 15-piece box filled with Coffee, Raspberry, Milk Fudge, Grand Marnier and Salted Caramel Truffles. The Salted Caramel Truffles were my favorite but kids all chose the Milk Fudge as theirs. I also ordered Chocolate Peanot Butter No No's, a "milk like chocolaty" candy that brought back memories of popping recess pieces into my mouth while driving home from high school. Premium Chocolatiers's chocolate isn't as sugary-sweet as some other brands on the market. It simple chocolately goodness and very smooth.
Delicious.
In addition, I just had to try their Milkless Premium Dark Semisweet chocolate bar that is a "Premium Dark-Dairy, Nut, Egg, and Gluten Free Semisweet Chocolate Bar." It's the answer to my need for a daily chocolate fix.
If you're looking for high quality,yummy, allergy friendly and New Jersey Made sweet treats, be sure to check out Premium Chocolatiers. They've got you covered – in chocolate.