A little while back I stopped at a local pizzeria and noted that their menu listed "love" as an ingredient. I have to admit that my initial reaction was a small eye roll- it felt gimmicky- but it got me thinking: if we put love into all food, all sorts of possibilities open up, including how we think about good food. Good food is grown and prepared with love.
To me, that means paying attention to both ingredients and the act of cooking them. When I can shut off the busy part of my brain and concentrate on cooking, it's satisfying to think about how the vegetables, meat, rice etc… will nourish me and my family. Food really is beautiful. In this month of Thanksgiving, I hope that your tables are laden and your hearts and bellies are full of love.
Welcome November and all the yumminess that it brings! Despite the fact that it's time for comforting soups and stews, I'm still grilling up a storm. My kitchen came down and I'm thankful for foil packet dinners and microwavable rice. I can't wait to see my dream kitchen come together! I'll post pictures in December.
This month we've enjoyed countless apples from Melick's and farm harvested squash from Orts. I'm really going to miss our CSA but I am looking forward to farm fresh pies! If you're in the market for pie, I suggest you stop by The Hacklebarney Farm Cider Mill and place your order soon! My friend Lisa introduced me to their pies 7 years ago and they are by far the best in New Jersey.
In the mood for farm fresh turkey? I've been told that Ashley Farms in Flanders is the place to place your order.
Wine pick of the week is from Tewksbury Fine Wines and would be delicious served with your turkey: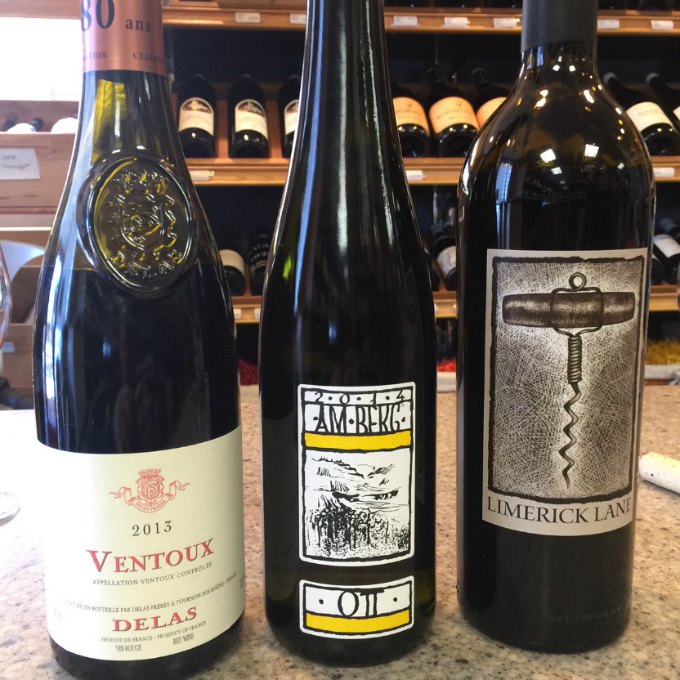 Out of the three, 2013 Delas Frees- Cotes du Ventoux is a yummy French wine that can't be beat and is priced at $15.00 a bottle. The 2014 Ott Am Berg is an Austrian wine that is light, acidic  and simply delicious and my favorite, Limerick Lane is a Zinfandel from Russian River Valley .  Go see Andrea and pick up a few bottles today!
Also, if your looking for a great cranberry sauce, look no further then my newest creation: Cinnamon and Port Cranberry Sauce! Happy Thanksgiving and happy cooking!
On to some yummy events for November:
November 2-8
Flemington Restaurant Week: The Flemington Restaurant Association invites the community to come out enjoy a good deal on a great meal. See their website for more information.
November 6, 7-10:00pm
New Jersey Harvest Wine Festival  at the Hilton Short Hills Hotel. Celebrate fall and enjoy an amazing array of 150+ expert picked wines! Enjoy full-bodied and rich reds, crisp whites, many specialty wines — awesome wines for fall! Click here for more information.
November 7, 12-5pm
Beer BBQ Bacon Showdown, this is the FIRST festival to feature New Jersey-only craft beer, restaurants, food trucks and chefs, with a mouth-watering array of BBQ & bacon creations available for purchase. This event will take place outdoors & under tents. Attendees will also enjoy fabulous live music from 2 great NJ bands: the Acoustic Alt-Country Blues-Rock sounds of Stepping Stone and high energy covers from Mr. Lovejoy. And to add to the all-Jersey excitement, there will be a competition to showcase culinary skills, with a panel of NJ celebrity judges choosing the best of the best, along with People's Choice awards for Best Dish & Best Beer. Beer BBQ Bacon Showdown is truly a one-of-a-kind New Jersey event. There is no other festival with NJ-only craft beer and food. Don't miss a chance to celebrate the best of New Jersey!
Tickets are available online at: http://njbeerbbqfest.com/
Use the code MEALDIVA to save $10.00 on tickets!
November 14th, 9-1:30pm
Open House at the Salt Cellar at Saltopia Salts: They will be featuring chocolates and butter in addition to their salts! 9 Reservoir Rd., Hackettstown, NJ 07840 Please follow the signage to the back of the property.
November 20, 6:30pm
Beer Pairing with Garret Oliver – Delve into the art of pairing beer with food at a special event hosted by Garrett Oliver, brewmaster at the Brooklyn Brewery. -Hosted by The Stickley Museum at Craftsman Farms. Reservations are required and seating is limited. $100 Tickets ($50 per ticket is tax deductible).
Have an event to ad? Send me an email or leave a comment below! Happy Cooking ( and eating).