Is it possible to fall in love at first bite?
Yes.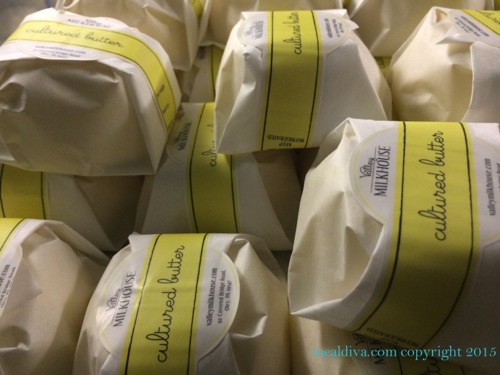 It happened to me recently while attending a cheese making class at Valley Milkhouse in Oley Valley, PA. Located at the historic Covered Bridge Farm, an 18th century farmhouse that is being restored to it's former glory, artisan cheese maker Stefanie Angstadt rents a cheese production space in what used to be the farms milkhouse. This quaint, historic room is the perfect place to make exquisitely pungent magic.
Angstadt's interest in cheesemaking started in New York City, where it was no more then a fun, expieriemental hobby. After a few years in the city, she decided to take a leap of faith and move out to Colorado where she apprenticed at a cheese making company. There, she developed her hobby into a craft. Then, as chance would have it, Angstadt returned to her family's place of origin in Oley PA where she continues to develop and make beautiful cheeses. The milk for the cheese comes from grass –fed cows that live right down the street. The best part of farm-to-table cheese making is how the milk comes from the cows, makes the cheese and then the whey (the by-product of cheese making) goes back to feed the pigs. Nothing goes to waste and it's all made with a love and respect for the farming community.
Valley Milkhouse is a fun place to spend time and really get your hands dirty. Angstadt's cheese making class was a well thought out and downright delicious affair.
That's Daddy Diva and Angstadt making some cheese…
Below is the cheese draining and Grandpa Diva, me and Daddy Diva… just having some fun…
So what kind of cheese did we learn how to make? We made a creamy Fromage Blanc from a simple recipe of whole milk, Flora Danica culture, rennet and non-iodized salt. It was so much fun! In addition to making the cheese, we got to visit the aromatic cheese cave and sample some of the delicious fair. My favorites included:
Homemade cultured butter with its farm to table luxurious fresh taste.
Witchgrass, a beautiful mold-ripened, ash dusted cheese that was mild and creamy. Angstadt says that the more it ages, the more "pungent and special" it becomes.
Blue Bell, a natural rinded blue with a firm texture and a strong, delicious taste.
Real cheese is amazing. Once you try it (let alone learn how to make it), you can't go back to the boring, processed stuff at the grocery store. The good stuff is out there and it's made by good people. It's time you tried some… I promise that it's life changing.
If you have a free weekend coming up, be sure to sign up for one of Angstadt's classes or visit her at a local farms market. She can be found/followed on Facebook or on her Website .