I've been deliciously happy with all of the New Jersey fresh asparagus and strawberries that I've been eating! They are always the first farm- to- table produce that I see after a long, cold and tasteless winter and they thrill me to pieces. Are you as excited as I am for CSA season? To celebrate, I thought I'd share some fabulous and tasty recipes:
Strawberry Cheesecake Muffins by sally's baking addiction
Homemade Strawberry Ice cream by full and content
Roasted Asparagus with Roasted Garlic and Almond Vinaigrette by Noshing with the Nolands
Asparagus and Goat Cheese Tart from Real Housemoms
In addition to relishing the start of CSA season, I have to tell you about Matt's Red Rooster in Flemington. Wow.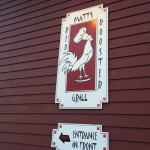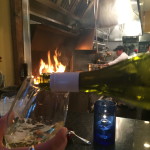 Talk about an interactive multi-sensory eating experience. My wonderful friend Sam secured us a place at the chef's table and I was simply blown away. We started with delicious bivalves, Grilled Calamari and Grilled Asparagus & Jumbo Crab Meat.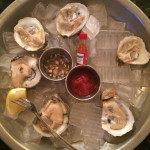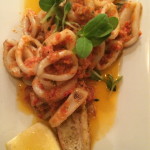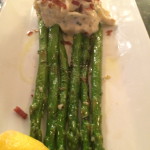 We moved onto some exquisitely plated Signature Grilled Romaine salad: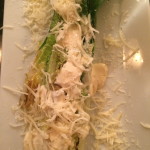 Our main courses included Striped Bass, Thirty Day Dry Aged Steak and Wood Fire Ahi Tuna. We finished the night off with some Mango Tarts. If your looking for a restaurant that offers your taste buds a particularly delicious experience, make a reservation today. Oh! And they are BYOB!
I also ventured out with Peanut to the Dublin Pub in Morristown. I haven't been there in ages and the lunch was just as delicious as I remembered it to be (I mean look at this cornbeef) AND they still serve my favorite Colman's Mustard. The wait staff was fantastically fun and they took our food allergies seriously.
My 2 Week Family Dinner Challenge was released in May and I hope you downloaded your copy! It's free!
I also had a recipe go "viral" (so to speak) on Facebook. In case you don't follow me there, I thought I'd share it here as well:
Chicken and Vegetable Bake
Preheat the oven to 400 degrees
Use up leftover vegetables (the ones are hiding in your fridge that you thought you were going to eat but didn't) and chop them up into bite sized pieces.
Defrost 2 lbs. of chicken breast then cube them.
Place the vegetables and chicken into a baking dish
Dump ½ bottle of good quality Italian dressing over the chicken/veggie combo and toss to combine.
Bake for 20-25 minutes until the chicken is cooked and no longer pink in the middle.
Feel free to enjoy this dish alone, over rice or tossed with some noodles.
This might be the easiest meal I've ever cooked. Seriously.
So what's going on in our garden state this month? Here's a few MealDiva recommended events that are definitely worth checking out:
Eat Drink Local
MAY 30-JUNE 21, 11am-5pm
EVERYTHING STRAWBERRIES Strawberry season is coming and Alstede Farms is ready to celebrate. Enjoy everything the season has to offer from taking a hayride to pick your own strawberries to enjoying homemade strawberry ice cream, strawberry lemonade slushies, strawberry pies, strawberry fudge and more at the Alstede festival tent. And what's a celebration without local bands and family fun activities? Visit the website to see all the fun to be had. 1 Alstede Farms Lane, Chester.
JUNE 6, 11am-Noon
CRAZY MIXED UP VEGGIES! Kids will be asking for vegetables when they learn how to mix up summer veggie fun! Join Wegmans for this Hands-on Parent & Child class tossing together fruits, greens and more. Kids will learn to make watermelon, kale and feta salad, summer corn and bean Salad and pick-it-up-with-your-fingers grilled asparagus. Cost: $7 with Shoppers Club. (please purchase tickets in advance at service desk). 724 Route 202 South, Bridgewater
June 7, 2pm-5pm
Art on Tap
A Benefit for the Hunterdon Art Museum
I love the Hunterdon Art Museum and so do my kids! Come support them and enjoy delicious food from Metropolitan Seafood and other local restaurants. Live music and beer from Hunterdon Brewing Company will be there as well!
June 8, 6pm- 9:30pm
Montclair Food and Wine Festival's Gala Dinner at The Manor
June12, 7pm-9pm
Montclair Food and Wine Festival's Bourbon & Biergarten at the Montclair Art Museum
June 13, 7pm-9pm
Montclair Food and Wine Festival's Grand Tasting at the Montclair Art Musem
JUNE 21 4-9pm
FIREFLIES FESTIVAL Terhune Orchards invites you to celebrate the "electrifying" part of summer: fireflies! Enjoy an evening of nature, wagon rides, outdoor fun and more with musical entertainment by Miss Amy and Her Big Kids Band. Learn all about fireflies with crafts, activities and games, and if you're getting hungry, be sure to stop by Pam's Firefly Tent for snacks. Visit the website for add'l details. There is a $5 charge for craft activities. 330 Cold Soil Road, Princeton.
June 27
Music to your Mouth, a New Jersey Food Truck & Music Festival takes place in Stanhope, NJ . The proceeds go to the Roxbury Food Pantry, GiGi's Playhouse & Moris Rugby. The event takes place at Waterloo Village. www.JustJerseyFest.com
Want to be featured on MealDiva? Let me know about your event, locally made New Jersey food or restaurant!! I also have a sponsored content program. Email jen@mealdiva.com for details.
* All of the thoughts and opinions in the post are my own and I was not compensated in any way.